Tim,
You must be referring to this:
By metmike - Aug. 29, 2018, 10:38 p.m.
Hi Cliff,
Of course the tariff situation made things worse but the last time that ending stocks as a % of usage were projected to be higher than this was the mid 1980's! Do you remember prices then?
Like you said, with harvest pressure, prices are likely to get even lower than where they are now.........which is 10 year lows. We could drop well below $8 based on the graphs below.
If you look at prices at the bottom, it's a reminder that soybeans were under $5 from early 1999 thru half of 2002 with fundamentals far more bullish than they are now.
So as long as we don't have unprecedented damage from flooding in September, as soon as the market trades on harvest pressure, the bottom really can fall out. The actual bottom will be lower because of the China situation but here on planet earth, the empirical data below means prices would still very likely have dropped below 10 year lows at harvest.
The last 3 years, in Sept. soybean prices were 9.05-2015, 9.43-2016 and 9.35-2017 with MUCH less bearish projections of ending stocks as a % of total use. Then they dropped even lower than that from harvest pressure.
People forget but the only reason that we got above $10 earlier this year was a drought in parts of South America for 2 months, then funds loading up with a huge speculative long position ahead of our growing season.
At the end of May 2018, when the weather turned from hot/dry forecasts to wet and crop estimates kept increasing......they covered their longs and built up a huge short position.
Soybean Supply & Demand Charts:
https://www.agmanager.info/grain-marketing/grain-supply-and-demand-wasde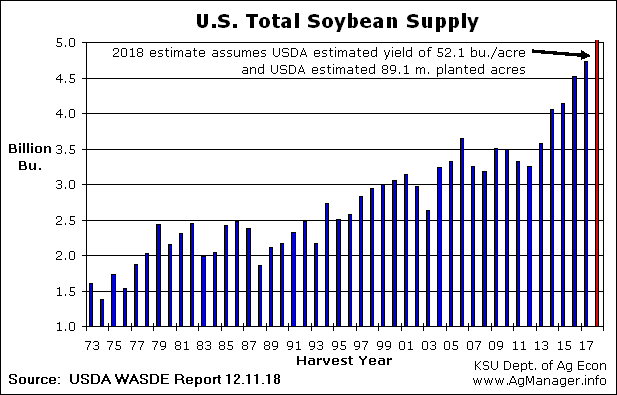 US Monthly Average Soybeans Price Received
for the 1960 - 2018 Calendar Year(s)
Year
Jan
Feb
Mar
Apr
May
Jun
Jul
Aug
Sep
Oct
Nov
Dec
Avg*










$/bu.












1960
2.01
1.99
1.99
2.02
2.00
1.97
1.97
1.99
1.97
1.94
1.96
1.99
1.98
1961
2.23
2.48
2.68
3.02
2.96
2.60
2.48
2.49
2.34
2.20
2.27
2.30
2.50
1962
2.32
2.32
2.34
2.38
2.36
2.34
2.35
2.33
2.25
2.23
2.30
2.35
2.32
1963
2.41
2.50
2.51
2.45
2.47
2.48
2.44
2.45
2.44
2.56
2.66
2.58
2.50
1964
2.65
2.57
2.55
2.45
2.36
2.35
2.34
2.35
2.51
2.55
2.57
2.71
2.50
1965
2.73
2.81
2.85
2.85
2.72
2.74
2.69
2.53
2.35
2.31
2.36
2.48
2.62
1966
2.67
2.77
2.71
2.78
2.90
3.04
3.37
3.49
2.97
2.78
2.80
2.82
2.93
1967
2.77
2.71
2.74
2.71
2.69
2.71
2.66
2.56
2.53
2.44
2.43
2.48
2.62
1968
2.53
2.57
2.57
2.56
2.58
2.54
2.52
2.51
2.40
2.32
2.40
2.42
2.49
1969
2.46
2.48
2.48
2.51
2.56
2.52
2.52
2.51
2.28
2.23
2.30
2.30
2.43
1970
2.36
2.40
2.42
2.48
2.52
2.60
2.72
2.65
2.66
2.77
2.86
2.77
2.60
1971
2.86
2.92
2.91
2.80
2.85
2.98
3.18
3.09
2.95
2.96
2.84
2.93
2.94
1972
2.92
3.00
3.20
3.37
3.35
3.32
3.34
3.36
3.26
3.13
3.38
3.95
3.30
1973
4.11
5.49
6.04
6.14
8.27
10.00
6.69
8.99
5.81
5.63
5.14
5.65
6.50
1974
5.87
6.07
5.96
5.15
5.21
5.13
6.11
7.55
7.32
8.17
7.44
7.03
6.42
1975
6.30
5.72
5.31
5.60
5.00
4.90
5.28
5.80
5.32
4.92
4.45
4.28
5.24
1976
4.46
4.50
4.46
4.52
4.87
6.16
6.73
6.07
6.65
5.90
6.11
6.56
5.58
1977
6.81
7.06
7.83
9.05
9.24
8.13
6.52
5.48
5.17
5.28
5.61
5.68
6.82
1978
5.75
5.53
6.20
6.49
6.77
6.69
6.40
6.21
6.20
6.26
6.41
6.49
6.28
1979
6.58
6.99
7.16
7.06
7.06
7.36
7.36
7.07
6.81
6.35
6.30
6.27
6.86
1980
6.39
6.20
5.94
5.63
5.76
5.91
6.75
7.18
7.59
7.68
8.18
7.80
6.75
1981
7.80
7.50
7.59
7.60
7.40
7.05
7.13
6.71
6.21
6.06
6.04
6.00
6.92
1982
6.13
6.04
5.99
6.17
6.27
6.12
5.99
5.59
5.22
5.06
5.34
5.46
5.78
1983
5.56
5.66
5.82
6.09
6.06
5.90
6.27
7.57
8.28
7.96
7.81
7.75
6.73
1984
7.85
7.28
7.68
7.83
8.12
7.99
6.95
6.50
6.09
6.07
6.01
5.82
7.02
1985
5.91
5.77
5.88
5.88
5.70
5.62
5.42
5.10
4.99
4.85
4.92
5.01
5.42
1986
5.16
5.18
5.23
5.23
5.25
5.19
5.11
4.99
4.85
4.55
4.64
4.67
5.00
1987
4.70
4.69
4.73
4.90
5.20
5.36
5.25
5.02
5.02
5.04
5.36
5.63
5.08
1988
5.73
5.96
6.05
6.39
6.98
8.18
8.50
8.33
7.93
7.53
7.43
7.53
7.21
1989
7.69
7.41
7.51
7.29
7.20
7.05
6.83
6.07
5.70
5.55
5.66
5.64
6.63
1990
5.65
5.56
5.65
5.82
5.97
5.88
5.97
6.00
5.99
5.88
5.78
5.72
5.82
1991
5.71
5.65
5.76
5.77
5.67
5.56
5.36
5.66
5.64
5.48
5.48
5.45
5.60
1992
5.54
5.59
5.67
5.66
5.87
5.94
5.59
5.40
5.36
5.26
5.36
5.61
5.57
1993
5.58
5.56
5.65
5.73
5.81
5.90
6.56
6.56
6.21
6.01
6.32
6.64
6.04
1994
6.72
6.71
6.73
6.57
6.77
6.72
5.92
5.58
5.47
5.30
5.36
5.41
6.11
1995
5.47
5.40
5.51
5.55
5.56
5.68
5.90
5.83
5.98
6.16
6.40
6.76
5.85
1996
6.78
7.00
7.00
7.43
7.69
7.41
7.62
7.82
7.79
6.94
6.90
6.91
7.27
1997
7.13
7.38
7.97
8.23
8.40
8.16
7.52
7.25
6.72
6.49
6.86
6.72
7.40
1998
6.69
6.57
6.40
6.26
6.26
6.16
6.14
5.43
5.25
5.18
5.39
5.37
5.93
1999
5.32
4.80
4.61
4.63
4.50
4.44
4.19
4.39
4.57
4.48
4.45
4.43
4.57
2000
4.62
4.79
4.91
5.00
5.19
4.93
4.53
4.45
4.59
4.45
4.55
4.78
4.73
2001
4.68
4.46
4.39
4.22
4.33
4.46
4.79
4.85
4.53
4.09
4.16
4.20
4.43
2002
4.22
4.22
4.38
4.47
4.64
4.88
5.35
5.53
5.39
5.20
5.46
5.46
4.93
2003
5.51
5.55
5.59
5.82
6.07
6.09
5.82
5.68
6.06
6.60
7.05
7.17
6.08
2004
7.35
8.28
9.28
9.62
9.56
9.08
8.46
6.83
5.84
5.56
5.36
5.45
7.56
2005
5.57
5.42
5.95
6.03
6.20
6.58
6.84
6.15
5.77
5.67
5.62
5.77
5.96
2006
5.88
5.67
5.57
5.52
5.68
5.61
5.61
5.23
5.24
5.52
6.07
6.18
5.65
2007
6.38
6.87
6.95
6.88
7.13
7.51
7.56
7.72
8.18
8.36
9.41
10.00
7.75
2008
9.96
11.70
11.50
12.00
12.10
13.20
13.30
12.80
10.70
9.94
9.38
9.24
11.32
2009
9.97
9.55
9.12
9.79
10.70
11.40
10.80
10.80
9.75
9.44
9.53
9.80
10.05
2010
9.79
9.41
9.39
9.47
9.41
9.45
9.79
10.10
9.98
10.20
11.10
11.60
9.97
2011
11.60
12.70
12.70
13.10
13.20
13.20
13.20
13.40
12.20
11.80
11.70
11.50
12.53
2012
11.90
12.20
13.00
13.80
14.00
13.90
15.40
16.20
14.30
14.20
14.30
14.30
13.96
2013
14.30
14.60
14.60
14.40
14.90
15.10
15.30
14.10
13.30
12.50
12.70
13.00
14.07
2014
12.90
13.20
13.70
14.30
14.40
14.30
13.10
12.40
10.90
9.97
10.20
10.30
12.47
2015
10.30
9.91
9.85
9.69
9.58
9.58
9.95
9.71
9.05
8.81
8.68
8.76
9.49
2016
8.71
8.51
8.56
9.04
9.76
10.20
10.20
9.93
9.43
9.30
9.46
9.64
9.40
2017
9.71
9.86
9.69
9.32
9.26
9.10
9.42
9.24
9.35
9.18
9.22
9.30
9.39
2018
9.30
9.49
9.81