Here's the temperature map for the 7 days going into this week's EIA report.
It's warmer than the previous week, so the injection WILL be larger. Any guesses?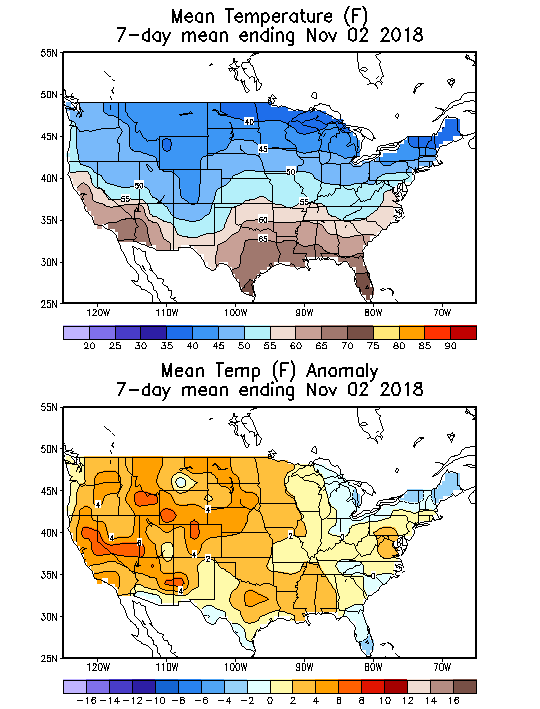 Comments from Sunday evening:
By WxFollower - Nov. 4, 2018, 2:19 p.m.
This evening's NG open will be interesting. The Sunday midday Radiant (and I assume most other) forecasts are sharply colder vs the Fri AM forecast for weeks 1-2. However, some of this was baked in on Friday afternoon when the colder 12Z model consensus came out. Also, fwiw, the latest week 3-4 CSFv2 is warmth dominated. Because I don't think the CFS weeks 3-4 are nearly as market moving as weeks 1-2 due to its unreliability (I mean look at how much weeks 1-2 just changed) and I don't think this degree of colder weeks 1-2 was baked in on Friday afternoon, I expect a strong opening of, say , up 5 cents+.
+++++++++++++++++++++++++++++++++++++++++++
---
By metmike - Nov. 4, 2018, 3:26 p.m.
Agree Larry,
Also the week 3-4 forecasts have been warm almost every day for a couple of weeks it seems. This is not new news at all, which is what the market trades.
On Friday around 7am, the market was sharply lower and closer to the lows of the week, then surged up, with all the late morning/early afternoon guidance coming in MUCH colder, adding to the gains. In some cases, one of the biggest changes for one model run that I remember in awhile.
The biggest change to me, is probably the penetration south of the coldest air.
There are a great deal of people living in the Midwest and Northeast but when you add the East Coast and then go all the way to the Gulf Coast(which is MUCH,MUCH colder to me), you can massively add to the HDD's.
Adding one more thing. We will probably gap higher on the open. However, if there really is going to be the big warm up as advertised by some models late in week 2, that continues for the 2nd half of November, this spike up is a golden opportunity to get short.
Storage is low...........that's why we can spike up so strongly and quickly and as long as it stays cold, we can keep going higher but supplies hitting the market are apparently as a record right now.
If it gets mild later this month, the deficits with last year eroding is what the market will trade as well as the dropping risk of precariously low storage at the end of the heating season.
Repeating the frigid Winter of 5 years ago, gets storage down there and price spikes at levels not seen in over a decade.
Repeating the mild Winters of 2/3 years ago and storage catches all the way up with last year and prices get buried into the 2's.
Right now EIA projects winter heating demand at about 6.6 TCF, and end of season inventories at 1.37 TCF on March 31st. Heating demand over the last 28 winters ranged from 5.7 TCF to 7.3 TCF, averaging 6.4. Here's the history from EIA: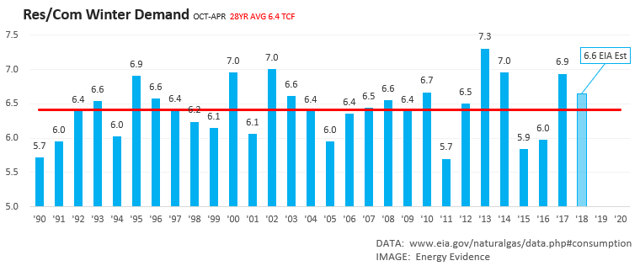 ++++++++++++++++++++++++++++++++++++
---
By metmike - Nov. 4, 2018, 6:27 p.m.
We got the gap higher.............HUGE gap higher in natural gas. This looked like panic type buying(short covering).
Impossible to know now whether to cover longs right here or how far to risk on current longs or when/where to go short if the pattern turns warm in the 2nd half of November.
This is a massive break away gap higher. If the end of week 2 maps keep turning colder, instead of getting warmer as they have been advertising, who knows how high ng might go.
If the warmth gets closer and closer, this is the place to short and we will fill the gap this week and put in a massive/powerful gap and crap negative technical signal.
The added cold in the weeks 1 and 2 part of the forecast right now indicate our first withdrawals of the season.
Update to the update on the first statement:
I think the first withdrawal of the season will be the report after next Thursdays report(22nd), that includes the period going thru Friday(16th). Likely double digit withdrawal!!
The week after that, though its supposed to warm up, will probably also feature a withdrawal.
This coming Thursday(8th) will feature an injection, then the next Thursday(15th) am not sure but might be a small withdrawal. Have not done calculations.
What do you think Larry?
+++++++++++++++++++++
---
Hey Mike,
I just looked. Wow, what a gap up (nearly 23 cents and it is still up 16 cents!!
I haven't done any calculations. About all I can say is that the upcoming EIA this week will be based on 9 fewer HDDs. The last two injections are really showing the increased production. So, after a big rise like this, I can understand the idea of a selloff at the first definitive sign of an end to the widespread chill.
Mike, did you notice that the truewx GFS/Euro/EPS HDD/CDD are no longer free? I had a feeling that this was the plan all along. So, you're now using some of Reliant's products?
+++++++++++++++++++++++++++++++++++++
---
By metmike - Nov. 5, 2018, 4:24 a.m.
Yes Larry.
Thanks for tipping me off. Am on a trial.