Previous posts:
By cliff-e - Dec. 15, 2018, 3:32 p.m.
Very mild and warm for us in W.Mn with temps. In upper 30s to mid 40s for a few days and a few more to come. We've seen people in boats on rivers enjoying some fishing and also on shore angling when usually there is ice fishing by now. Winter sports enthusiasts are disappointed but we know the weather can turn on a dime so we'll just enjoy it for now. :-)
++++++++++++++++++++++++++++++++++++++++++++++++++++
---
By metmike - Dec. 15, 2018, 4:09 p.m.
Thanks cliff!
Temperatures compared to average are some of the mildest in your neck of the woods.
++++++++++++++++++++++++++++++
---
By WxFollower - Dec. 15, 2018, 9:20 p.m.
Mike,
Thanks very much for doing these daily updates!
++++++++++++++++++++++++++++
---
By metmike - Dec. 15, 2018, 11:30 p.m.
YW Larry!
Thank YOU for all your valuable contributions.
---
By metmike - Dec. 17, 2018, 6:29 p.m.
The European 30 day forecast came out very late this afternoon and is lending some support to natural gas prices with it frigid maps for early January.
This product does not have a lot of skill but lately the market has traded off of it because the ng in storage is at 15 year lows:
The first map is late on New Years Day, then every 24 hours after that:
MAPS WERE ALL UPDATED ON DECEMBER 20 and don't correspond to the discussion above any longer.
+++++++++++++++++++++++++++++++++++++++++++++++
---
By WxFollower - Dec. 17, 2018, 7:39 p.m.
Yeah, Mike, a 3 cent gap up likely influenced by this is also my guess. Of course, it was extra primed to bounce on anything after such a huge drop the last week. Weeks 3-5 are sig colder while week 6 is slightly colder than the prior run. It is like a reversal of the last run's much warmer run and shows how low the skill is with every week changing heavily. The next run could easily reverse again. However, based on it being a weakish El Nino and assuming the MJO will likely be coming around into the colder phases by mid-Jan, I actually think this newest Euro weeklies is on the right track though it will probably be a rather slow transition. Week 3, though colder than the prior run, is still warm in the E 1/3 of the US though not nearly as warm as week 2. Week 4 is near normal for most of the US though it was very warm on the prior run and it is coolest SE. Week 5 is the coldest of the 6 weeks with a few degrees below normal in the E US but centered on the SE US, consistent with El Nino climo. Week 6 averages near normal in the E US but is slightly colder than normal SE. Overall, it appears the real pattern change to colder for the E US would occur ~1/10 based on this run.
---
++++++++++++++++++++++++++++++++++++++++++++++++++++++
By wxgrant - Dec. 17, 2018, 10:28 p.m.
If this is correct there will be a very good chance of below average temperatures during January. I know it is a 46 day ensemble but this seemed to do well during November. It was our 3rd coldest November on record in Cape. The Ensemble NAO shows a negative pattern all month as well.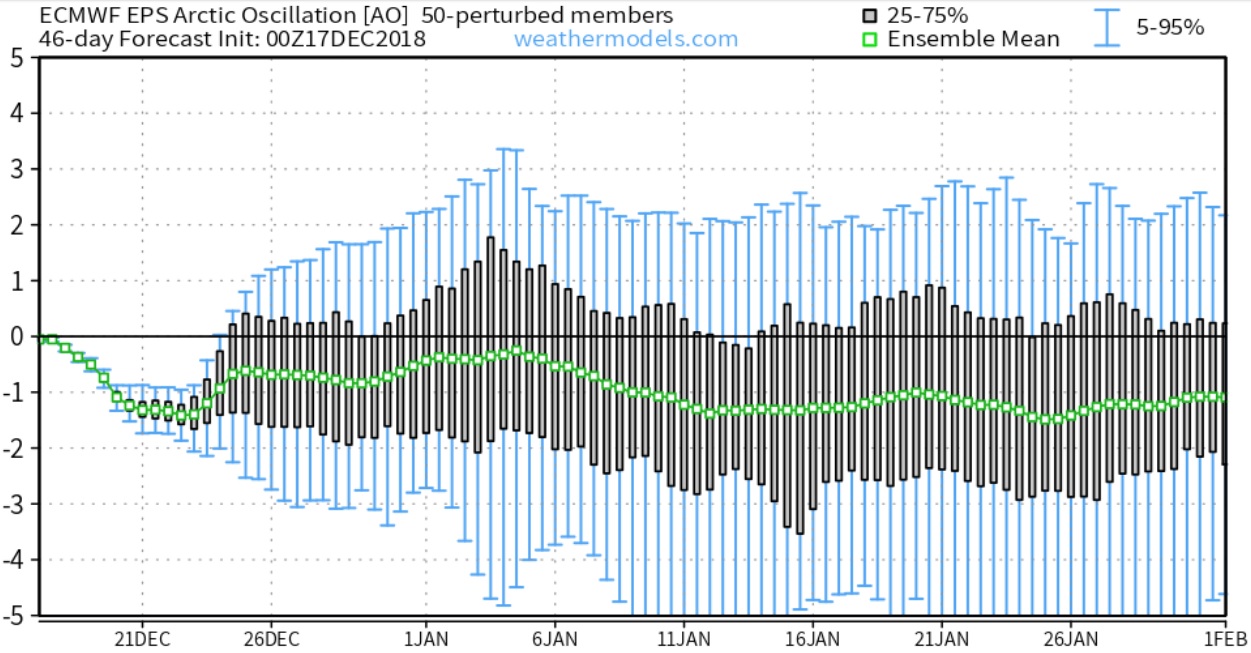 ---
++++++++++++++++++++++++++++++++++++++++++++++++++++++++++++++
By metmike - Dec. 17, 2018, 11:50 p.m.
Thanks much Grant!
Sustained -AO for the entire month of January (and -NAO based on your comment) with some pretty frigid air built up in the higher latitudes will provide the potential for a very cold January.
If this comes to pass, then natural gas is a buy here.............if it starts showing up on 2 week model forecasts.
If 2 week maps continue to hold off the cold, then we can still go lower......until major cold, at the very least starts showing up in that part of the forecast.
++++++++++++++++++++++++++++++++++++++++++++
---
By metmike - Dec. 20, 2018, 6:39 p.m.
The new European model 30 day outlook came out today(its updated on Mon and Thu, late afternoons).
Still has some major cold hitting to start the new year and another wave after that.
However the real frigid air does not penetrate very far south. The real cold air will be aimed farther east in the US with time(on this model).
The first wave hits the N.Plains, then after that the next 2, later in January will hit the Great Lakes and Northeast.
Maps below start on January 1st and continue every 24 hours thru Jan 19th.
---
+++++++++++++++++++++++++++++++++++++++++++++++++++++++
By metmike - Dec. 21, 2018, 3:42 p.m.
The GFS ensembles was the much milder model and European ensembles the colder one later in week 2 but they have completely flipped.
The 12z GFS is the colder one and the 12z European ensembles much milder than the previous solution.
The Canadian ensemble model was colder at 12z during the 11-15 day period.
+++++++++++++++++++++++++++++++++++++++++++++++++++++++
---
By metmike - Dec. 21, 2018, 3:45 p.m.
Extreme weather next week.
Huge precip event for a few days after Christmas.




---
++++++++++++++++++++++++++++++++++++++++++++++++++++++
By metmike - Dec. 22, 2018, 1:34 p.m.
This is an early look at the heavy snows forecast by the 12z operational GFS for late next week:
Forecast Hour: 120
Image URL: http://mag.ncep.noaa.gov/data/gfs/12/namer/snodpth_chng/gfs_namer_120_snodpth_chng.gif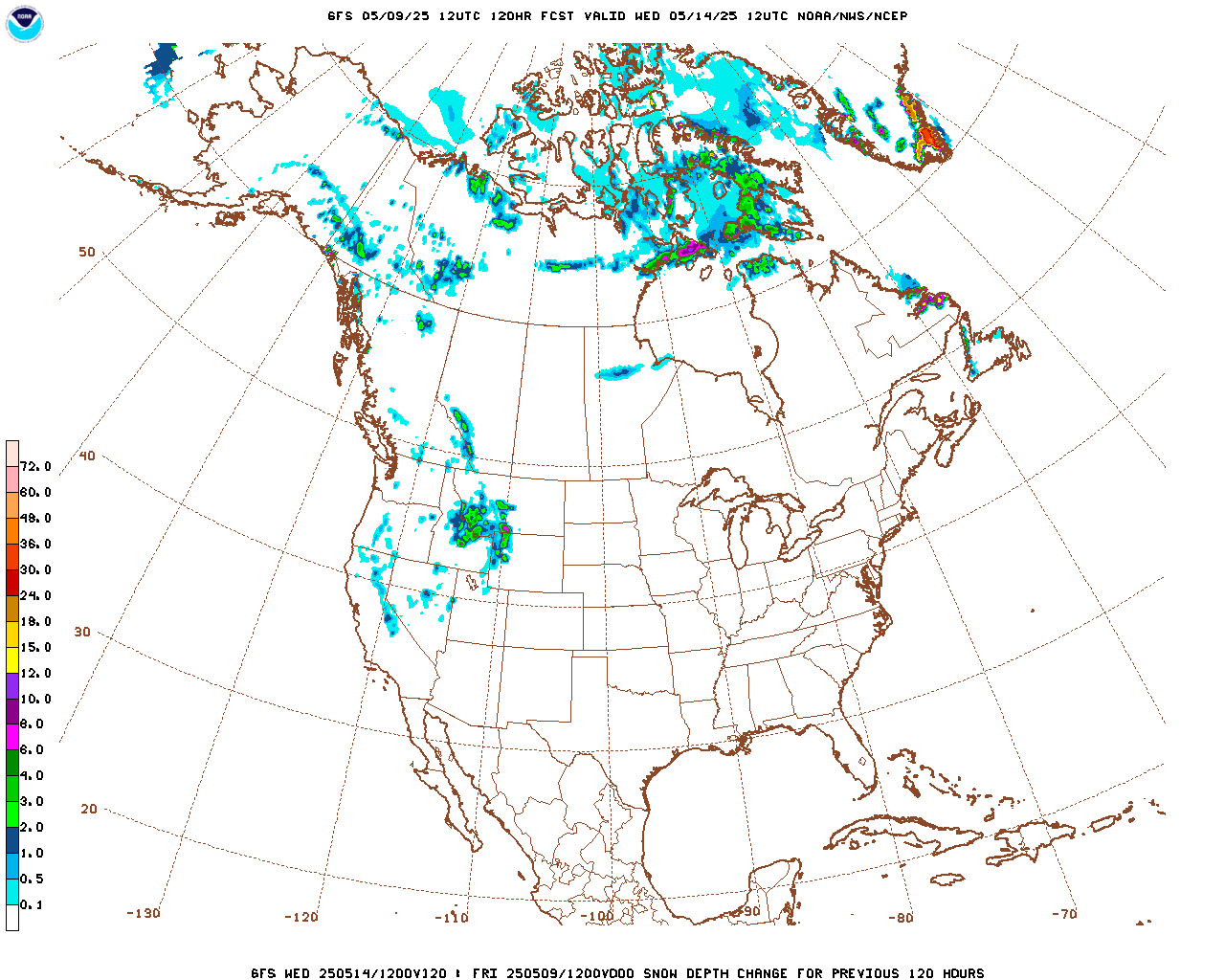 ---
+++++++++++++++++++++++++++++++++++++++++
Re: Re: Re: Re: Weather Saturday
By metmike - Dec. 22, 2018, 1:42 p.m.
The 12z GFS and Canadian models were not as cold as the bone chilling 0z models were.
---
+++++++++++++++++++++++++++++++++++++++++++++++++++++++++++
By metmike - Dec. 22, 2018, 4:40 p.m.
The European ensembles continue to be much milder during week 2, maybe even a bit more so with the 12z run.
+++++++++++++++++++++++++++++++++++++++
---
By By WxFollower - Dec. 22, 2018, 7:03 p.m.
With the strongest SSW in 10+ years likely leading to possibly very strong -AO by mid Jan, the road to much colder MJO phases ahead, the already forecasted +PNA and -NAO in early Jan, much of the E 1/2 of the US in Jan-Feb on average having been coldest during past borderline weak/mod El Niño (especially those following La Niña) like we have, the current extreme solar cycle min, and the last seasonal Euro showing extreme cold in much of the E 1/3 of the US, and the model consensus now going in the much colder direction starting around New Year's, I think the chances for a very long period of cold domination of most of the E 1-2 of the US in much of Jan/Feb. are about as high as can be at this point in late Dec. I wouldn't at all be surprised if there is a 45-60 day E US cold dominated period that rivals some of the coldest 45-60 day borderline weak/mod El Nino periods within 1884-5, 1885-6, 1904-5, 1911-12, 1923-4, 1939-40, 1963-4, 1968-9, 1969-70, 1976-7, and 1977-8. Note that 1884-5, 1885-6, 1904-5, 1911-2, 1923-4, 1939-40, and 1977-8 didn't have a particularly cold Dec and in some cases was actually mild, but they all had a very cold Jan-Feb.

It is like the wx index/climo slot machine for the chance of a very cold E US Jan/Feb is just about hitting all 7s. The point of this is to not let the mild two week period we're in the midst of fool folks. It almost with certainty in my mind won't be anything like this for the bulk of Jan and Feb. I usually don't agree with WxBell's Joe Bastardi due to his tendency to go for the extreme, but in this case I do. I've criticized him on a number of occasions for his cold bias. This is a very different situation.
Regarding the individual model runs, the windshield wiper back and forth from run to run isn't important in the overall scheme of things. In advance of a major pattern change, they will often do what they're doing. But even with the back and forth, the trend toward cold returning about a week earlier than thought just a few days ago is intact imo. So, instead of cold not retaking the stage til near 1/10, it appears to have moved up at least a week
---
+++++++++++++++++++++++++++
By metmike - Dec. 22, 2018, 7:12 p.m.
Has body(brain) snatchers taken over WxFollowers brain? (-:
I've never seen you anything like this on a long range weather outlook Larry!
Does this mean that I can bring back the weeks 3 and 4 outlooks to MarketForum weather (-:
Just kidding of course and I agree with everything that you stated.
After the Sudden Stratospheric Warming event that you mentioned the greatest 500 mb anomalies on day 10 are pretty far east, in Northern Europe on this 500 mb map of the GFS Ensembles. If that's the case, it could end up being too far east. If would need to retrograde back towards Greenland, so that we had a Greenland block dynamic.
The anomalies for the upper level ridge to the west are greatest in the southern part of the ridge and its too separated from the upper ridge in Northern Asia to tap into cross polar or even Arctic flow, which is not allowing it to maximize the transport of air masses from the highest latitudes, so the real cold may need to come from a Greenland block type upper level ridge that backs in the cold from high latitudes.
The European model ensembles have the features shifted slightly east of the other models. This causes the very mild air in the West, which will likely spread towards the Plains at times.........spreading even farther east and minimizing the threat for extreme cold in the US.
If the farther east scenario plays out, we end up very mild across much more of the country.
GFS ensemble average from the oz run, day 10 below. These are 500 mb anomalies(in the middle of the atmosphere)
---
+++++++++++++++++++++++++++++++++++++++
By metmike - Dec. 22, 2018, 7:40 p.m.
This guy presents a very long and comprehensive outlook that discusses the SSW event. He's from the other side of the Atlantic but you can see on some of his maps the effects here in the US, mainly in the first part of the presentation.
You have to be a real weather geek to watch most of it.
https://www.youtube.com/watch?v=xZppIf1rvK4
++++++++++++++++++++++++++++
---
By metmike - Dec. 22, 2018, 7:45 p.m.
A couple of other comments:
1. The deep snowpack put down in the N.Plains/Midwest late next week, will help sustain cold air masses that pass from Canada southward, so it will prevent the moderation that often takes place. Temperatures over deep snow also will be 5-10 degrees colder than over bare ground.
2. The effects of a SSW event are extremely unpredictable. Some events don't result in a powerful effect down in to the troposphere..........where it counts. If the polar vortex is displaced, it could be on the other side of the northern hemisphere and not here.
3. As a result of #2, model changes from run to run could be extremely volatile, as noted for just the last 2 days, even on ensemble averages that tend to be pretty stable.
++++++++++++++++++++++++++
---
By WxFollower - Dec. 23, 2018
Lol Mike! Although I mentioned the models trending toward an earlier change to cold and we both talked about the favorable for cold E US +PNA in the last 2 Euro weeklies runs starting in a couple of weeks, my post has more on an index/wx history kind of basis than anything else. In other words, had I not even seen any 2 week or Euro weekly models for the US (other than the indices) I feel I still could have made that post because of my knowledge of wx history/analogs. This does not mean I don't still think the CFSv2 has very limited skill/is very jumpy from run to run. I rarely look at the CFS because of this. And I think we agree the NG mkt concentrates on the first 2 weeks by far over anything later (with some exceptions like those temporary moves on the Euro weeklies those 2 times). Therefore, until this anticipated much colder change is more firm in week 2 model consensus, it may not do much in reaction to it just yet though a colder change in week 2 fcasts may be incorporated tomorrow. That is up to tomorrow morning's runs though I'm leaning that way as I think the trend is colder in a zigzag fashion from run to run. If not tomorrow, it may be soon after.
So, I'm not against discussing seasonal forecasting at all. Don't let my disdain for the CFS make you think that. Though models are not even close to reliable past week 2, ia combo of ndices/analogs if they all line up a certain way can often be more reliable for general trend likelihoods though not so much for specifics like week 3 in the NE US or week 4 in the Midwest.
Edit: Supposedly the strongest effects of SSWs don't start for at least 3 weeks until after it occurs. I don't know how it can be determined that it takes that long in all cases, but that's what I've read. Also, I do wonder if models tend to handle the rare very strong ones well. I do know that these major SSWs favor a strongly negative AO at some point afterward for a good period of time. Maybe the ~3 weeks is to allow enough time for the strat. warming to push far enough down into the trophospere to instigate a -AO. Then again, what if there already is a -AO then? Would this in theory make it even stronger?
Mike, what do you think about this supposed 3 weeks?
---
++++++++++++++++++++++++++++++++++++++++++++++++++
By WxFollower - Dec. 23, 2018, 2:35 a.m.
Regarding the cold borderline weak/moderate El Ninos: this is why I say don't let these mild 2 weeks of Dec. fool you
Here were the Dec's averaged out: only a cool lean E 1/3 of US (1 to 2 colder than normal):
https://www.esrl.noaa.gov/psd/tmp/climdiv/cd73.182.20.43.356.0.6.52.prcp.png
Here are the Jans averaged out: very cold (5 to 7 colder than normal) much of E 2/3 of the US:
https://www.esrl.noaa.gov/psd/tmp/climdiv/cd73.182.20.43.356.0.10.36.prcp.png
Here are the Febs averaged out: solid cold though not as cold as Jans (3 to 5 colder than normal much of E 2/3 of the US:
https://www.esrl.noaa.gov/psd/tmp/climdiv/cd73.182.20.43.356.0.30.16.prcp.png
Here are the March's averaged out: still pretty chilly most of US
https://www.esrl.noaa.gov/psd/tmp/climdiv/cd73.182.20.43.356.1.9.22.prcp.png