Started by metmike - Oct. 12, 2020, 10:13 p.m.
Here's how traders think the markets will react to the U.S. election, according to one broker's survey
https://www.marketwatch.com/story/heres-how-traders-think-the-markets-will-react-to-the-u-s-election-according-to-one-brokers-survey-11602070191
By far the worst scenario for the stock market, as measured by the S&P 500 SPX, +1.64%, would be no clear winner, according to this survey. The best scenario would be a re-election of Trump with a Republican Senate. Everything else would be a languid shrug.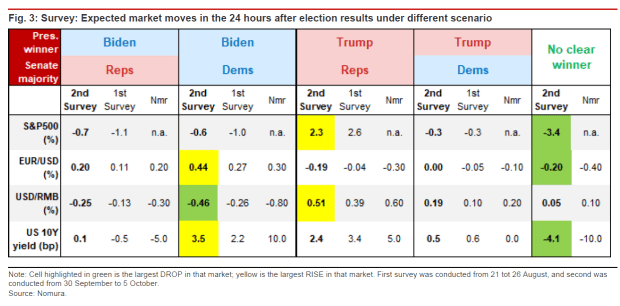 On the bond side, the possibility of increased fiscal stimulus from a Democratic sweep would lift the yield on the 10-year Treasury TMUBMUSD10Y, 0.757% the most. By contrast, yields would fall sharply without a clear winner, with investors rushing to the safety of bonds.
The possibility of a contested election has analysts looking at the election of 2000, as well as the less recent 1876 contest.