Major Earth Satellite to Track Disasters, Effects of Climate Change
https://wattsupwiththat.com/2021/03/25/major-earth-satellite-to-track-disasters-effects-of-climate-change/
Mar 24, 2021
The S-band SAR, one of two kinds of radar on the NISAR mission, arrived at JPL on March 19. The next day, technicians and engineers moved the S-SAR into the airlock to the Spacecraft Assembly Facility's High Bay 1 clean room. The equipment will be unpacked over several days in the clean room.Credits: NASA/JPL-Caltech
Designed to spot potential natural hazards and help researchers measure how melting land ice will affect sea level rise, the NISAR spacecraft marks a big step as it takes shape.
An SUV-size Earth satellite that will be equipped with the largest reflector antenna ever launched by NASA is taking shape in the clean room at the agency's Jet Propulsion Laboratory in Southern California. Called NISAR, the joint mission between NASA and the Indian Space Research Organization (ISRO) has big goals: By tracking subtle changes in Earth's surface, it will spot warning signs of imminent volcanic eruptions, help to monitor groundwater supplies, track the melt rate of ice sheets tied to sea level rise, and observe shifts in the distribution of vegetation around the world. Monitoring these kinds of changes in the planet's surface over nearly the entire globe hasn't been done before with the high resolution in space and time that NISAR will deliver.
The spacecraft will use two kinds of synthetic aperture radar (SAR) to measure changes in Earth's surface, hence the name NISAR, which is short for NASA-ISRO SAR. The satellite will use a wire mesh radar reflector antenna nearly 40 feet (12 meters) in diameter at the end of a 30-foot-long (9-meter-long) boom to send and receive radar signals to and from Earth's surface. The concept is similar to how weather radars bounce signals off of raindrops to track storms.https://www.youtube.com/embed/lyWQGkqCY8c?rel=0This animation shows how the NISAR spacecraft will deploy its radar reflector antenna after launch. Nearly 40 feet (12 meters) in diameter, the reflector will sit at the end of a 30-foot-long (9-meter-long) boom, sending and receiving radar signals to and from Earth's surfaceCredits: NASA/JPL-Caltech
NISAR will detect movements of the planet's surface as small as 0.4 inches (a centimeter) over areas about the size of half a tennis court. Launching no earlier than 2022, the satellite will scan the entire globe every 12 days over the course of its three-year primary mission, imaging the Earth's land, ice sheets, and sea ice on every orbit.
Activities such as drawing drinking water from an underground aquifer can leave signs on the surface: Take out too much water, and the ground begins to sink. The movement of magma under the surface before a volcanic eruption can cause the ground to move as well. NISAR will provide high-resolution time-lapse radar imagery of such shifts.
fred250
Reply to Roger Taguchi
March 25, 2021 11:00 pm
Ignorance run in your veins doesn't it, rogered,
that's from all the intravenous Klimate Kool-aide you have been using.
Greenland ice mass since 1900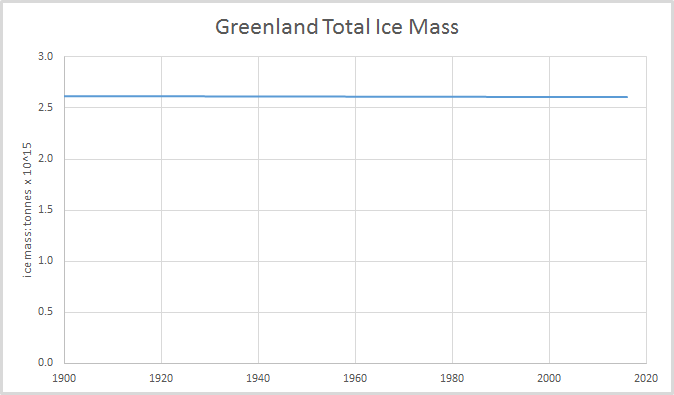 .
Greenland Ice Area last 8000+ years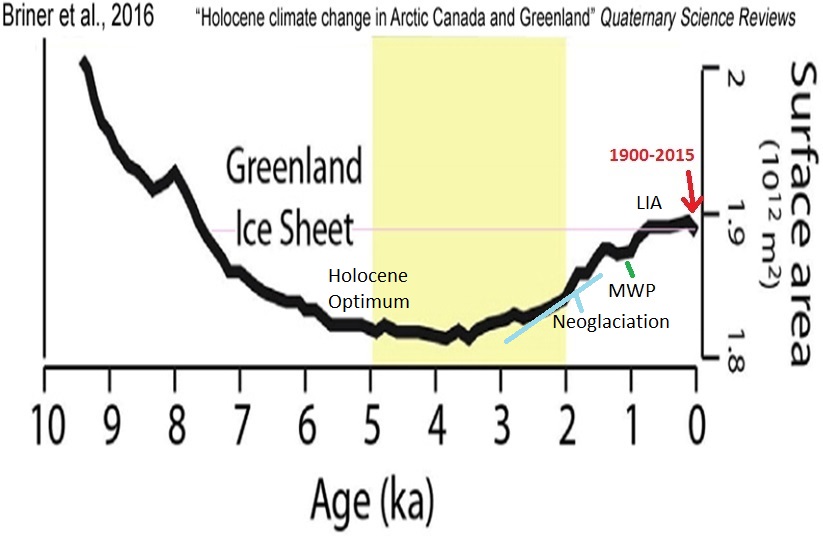 .
Greenland SMB less in the 1930s.

metmike: I am not agreeing entirely with this one study but we know with high confidence that it was warmer in Greenland during the Holocene Climate Optimum(seen below), between 9,000-5,000 years ago and there was less Arctic sea ice then. My point is that the science is clearly NOT settled and the only information we get is exaggerated, computer simulated/modeled stuff from biased humans that has been proven beyond a shadow of a doubt to be TOO warm.............but they refuse to adjust it because its just too powerful of a tool for politics.
+++++++++++++++++++++++++++++
https://en.wikipedia.org/wiki/Holocene_climatic_optimum
The Holocene Climate Optimum warm event consisted of increases of up to 4 °C near the North Pole (in one study, winter warming of 3 to 9 °C and summer of 2 to 6 °C in northern central Siberia).
Out of 140 sites across the western Arctic, there is clear evidence for conditions warmer than now at 120 sites. At 16 sites, where quantitative estimates have been obtained, local HTM temperatures were on average 1.6±0.8 °C higher than now.
Temperature variations during the Holocene from a collection of different reconstructions and their average. The most recent period is on the right, but the recent warming is only seen in the inset.