I agree totally joj!! Thanks for the comments.
My view is actually a bit biased......but then, it's one that understands the realities that average Joe's are clueless about. ........ because I competed powerlifting and body building.
I took steroids for a couple of months when I was in college and fortunately, I didn't have much money or I probably would have been tempted to do it longer back in those days.
I extremely over trained in those days to the point of it being counterproductive.... so mostly it just allowed my body to recover better.
When I competed I was NEVER on steroids and the last contest was a drug free one in 1984(Mr. Evansville).
Bodybuilding and power lifting has more anabolic steroid use than any other sport by a wide margin. That's exactly what testosterone does best. It adds muscle(body building) and strength(power lifting).
In baseball, it doesn't give you better timing or skill hitting or catching a ball. It doesn't make you a better pitcher or better defensive player.
However, the main benefits are to power hitters.....increasing power to hit baseballs farther. More home runs.
If you're a pitcher, to recuperate quicker from the tremendous wear and tear on your arm from throwing 100 pitches, some at 95+ mph in a game.
All players would recuperate quicker from injuries and the wearing down of their bodies from playing baseball every day as the season goes on.
That's what steroids to.
So let's discuss the mentality and what's at stake.
These guys, like all professional athletes ate, sleep, exercised and practiced most of the day and most of their lives to be the best in their sport.
Many of them had many millions of dollars at stake in income which was tied to productivity while playing their sport.
Many people will just call using steroids "cheating" without fully understanding the mind set and what is really happening.
Most pro athletes have insane nutrition, exercise and practice routines to try to get their bodies to do things that you and me can only imagine in our dreams.
They are mostly genetically gifted too but also work extraordinarily hard and use every supplement or tool known to mankind to get the most out of their bodies.
Every human body has certain amounts of vitamins, minerals, hormones, proteins, carbohydrates, fats, nutrients and so on that it metabolizes to generate tissue, blood and so on to stay healthy/fit/strong and basically be at the best shape possible to perform whatever physical endeavor that body performs at an optimal level.
Every one of those elements are important, some more than others. Turns out that the one more important than any of them..........is a man's testosterone level.
Men have higher testosterone levels than women, which is one advantage of being a man in playing many sports.
Some men actually have much higher NATURAL testosterone levels than other men.
There have been some men that failed drug tests because their natural testosterone levels are so high. Further testing can distuinguish between natural and synthetic test.
So if we have known freaks out there, men who's bodies naturally produce more than triple the testosterone as other men competing against them, it makes the understanding of testosterone in the body better.
If all men had exactly XXX amount of testosterone in their body, then it would make it more unfair for any man to double that amount with synthetic test.
Look at this wide range in testosterone of Olympic athletes on the graph below:
https://www.biointeractive.org/sites/default/files/TestosteroneAthletes-Educator-DP.pdf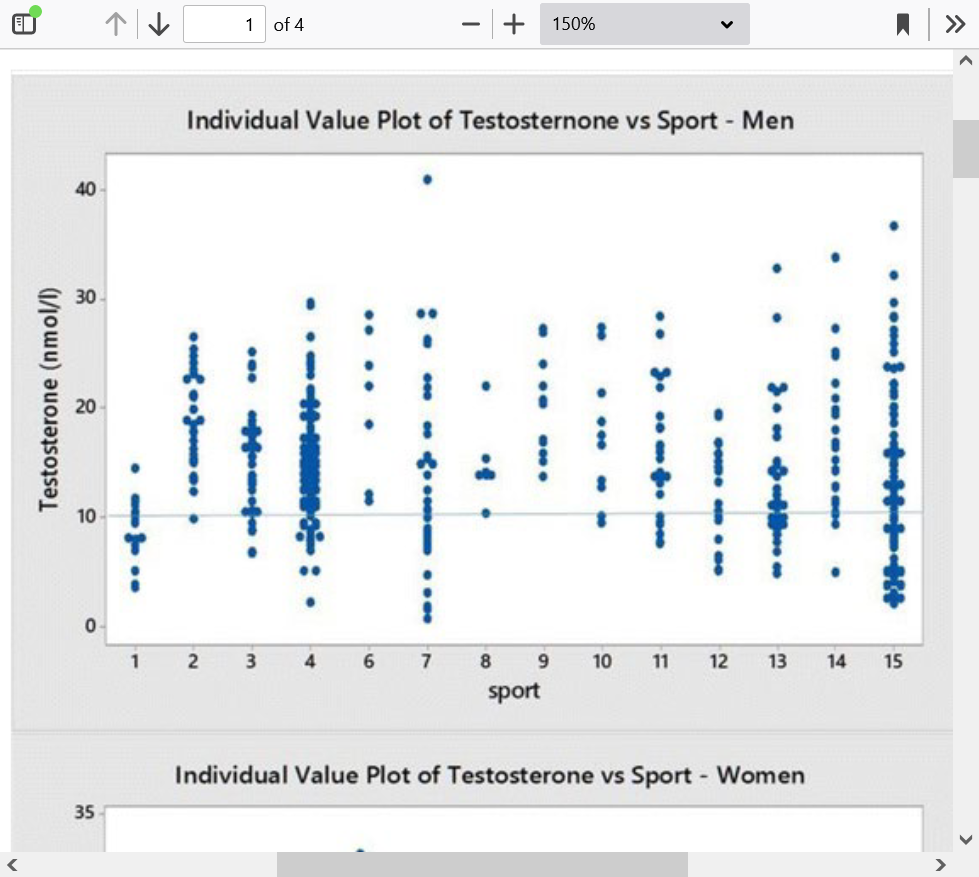 Why wouldn't it be fair for a man with only 10 nm/l (or less) to boost his testosterone to the 30 nm/l that other men are at???
I think actually, that probably some men KNOW what the limit is when they test and could be taking extra test to boost to that level.
Also, your test drops from the late teen years for the rest of your life. Would it be unfair for a 40 year old to practice "hormone replacement therapy" to compete to the same level as the younger men he competes against?