Thanks Wayne,
"I would worry more about drunk drivers or pedestrian crossing, bike riders, pedestrians with their head buried in there cell phone etc than covid There are more high risk things than covid in today's world but if it makes a person feel good, to do all sorts of stuff that is possibly doing no good, why worry about those who worry. A state of mind can make you sick, so lots of things, in large quantities for different people, if it makes you feel better
I did nothing and survived. I am in the high risk"
I'm very glad that you fared so well with COVID, especially having your bad diabetes and being high risk.
Families of the 1 million+ people that were killed by COVID the last 2+ years will strongly disagree with those statements...........as will people following science, medicine and data.
++++++++++++++++
Let's see what the facts/evidence shows:
Since March 1, 2020 there have been 1.04 million cumulative deaths from COVID in the United States.
https://ourworldindata.org/covid-deaths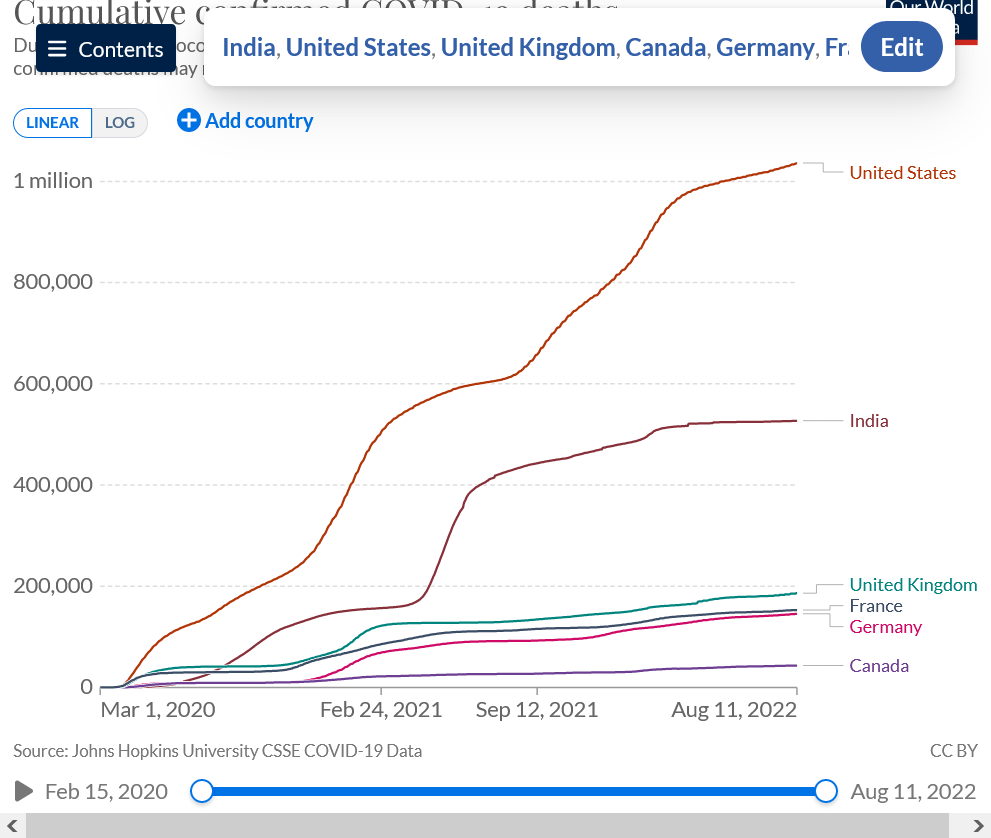 https://www.nhtsa.gov/risky-driving/drunk-driving
About 30% of all traffic crash fatalities in the United States involve drunk drivers (with BACs of .08 g/dL or higher). In 2020, there were 11,654 people killed in these preventable crashes. In fact, on average over the 10-year period from 2011-2020, about 10,500 people died every year in drunk-driving crashes.
++++++++++++++++++++++++++++
metmike: So for a 2.5 year period, that would mean 2.5 X 10,500 = 26,250 people killed from drunk-driving crashes.
During that same period, 1.04 million people were killed by COVID. This is the same number as 1,040,000 people killed by COVID. Divide that by drunk driving deaths of 26,250 during the same period and we get a rate of 39.6 times more COVID deaths than drunk driving deaths. Basically 40 times more COVID deaths.
The drunk driving deaths are still significant but to avoid them, we basically have 2 choices.
1. Don't drink ourselves, which we can control or
2. Don't get into a car............which would be silly.
So we can't control all the drunk drivers out there and take that chance anytime we're in a car.
What about COVID?
We can Greatly control our risks of severe sickness or death (if we want to) if we're high risk by doing some of these things.
1.etting vaccinated. This does not stop us from being infected but it does teach our immune systems to immediately recognize COVID and gush out a powerful attack on it with COVID antibodies quickly.
2. Wear an N95 mask in crowded places. The 95 is for these masks filtering out 95% of the virus particles the size of COVID.
3. If infected, have a doctor prescribe Paxlovid. Paxlovid is 2 meds combined. 1 stops the COVID from replicating. Normally a virus can progenate 700 new copies of itself in 7 hours. This means that after 14 hours we get 700 X 700 = 490,000 viral units. After 21 hours, that means 490,000 X700 = 343,000,000 million. The numbers become enormous in just a few days, jumping to the billions next, then trillions, zillions and so on after each 7 hour period.
The 2nd drug blocks an enzyme in the liver that metabolizes the 1st one (causes the 1st one to last much longer).
Paxlovid is a miracle drug!
4. There are other supplements/treatments that can help to support your body and help it to fight off COVID.
Ivermectin/COVID treatments https://www.marketforum.com/forum/topic/80692/
5. Most people that get COVID, even most old people with compromised immune systems and/or pre existing conditions(like you Wayne) don't die when they get COVID.
However, NOT doing anything and living thru COVID, doesn't mean other people should also NOT do anything and just hope they get lucky, like you did because there are many things that a person can do to greatly increase the likelyhood of NOT getting severe sickness or dying from COVID. You are right on about excessive worrying. This is counterproductive. Having a positive attitude, however contributes to a beneficial/healthy mind/body connection.