By metmike - Nov. 5, 2022, 11:52 p.m.(before election)
https://www.marketforum.com/forum/topic/90049/#90341
Trump says 2020 election 'rigged' at rally for GOP candidates Oz, Mastriano in Pennsylvania
https://www.tribdem.com/pennsylvania/trump-says-2020-election-rigged-at-rally-for-gop-candidates-oz-mastriano-in-pennsylvania/article_774c83dc-5d76-11ed-9bf1-736b92953336.html
Trump highlighted the recent decision by Pennsylvania Supreme Court that mail-in ballots without dates should not be counted, but he lamented that the ruling was not in place in 2020 when he lost to Joe Biden.
"We beat this guy so badly," he said. "The election was rigged, and now our country is being destroyed."
+++++++++++++
Oz was in a position to win but a complete moron came to PA earlier today to remind moderates, libertarians and unhappy democrats why they should NOT vote republican and NOT vote for Oz.
Oz already had all the extreme right votes.......the ones convinced that Trump won. Bringing Trump in like this with days to go until the election was the dumbest thing he's done campaigning.
Having unpopular, very low credibility Biden in for Fetterman was a bad idea for the Ds too. However with Trump, outside of the far right, he's extremely toxic.
I'm convinced that Trump is the best thing that ever happened to the D party.
He's hijacked the brains of the far right so they're unable to recognize that or who he is.
This is another reason that I dislike Oz but it doesn't disqualify him. Oz is NOT a 2020 election denier either.
Oz says he would have certified the 2020 election results for Biden
https://www.cbsnews.com/news/oz-says-he-would-have-certified-the-2020-election-results-for-biden/
I mentioned in a recent thread that I didn't think that I hate Trump right now. However, today after reading about him in PA and hearing his words, reminding me of who he is and what he's done/is doing, there's more work for me to not hate this psychopathic moron.
https://imgflip.com/memegenerator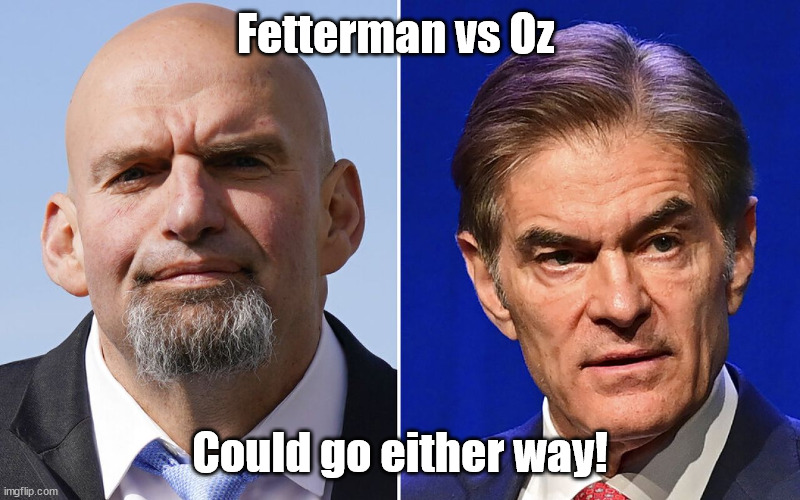 Enter Donald Trump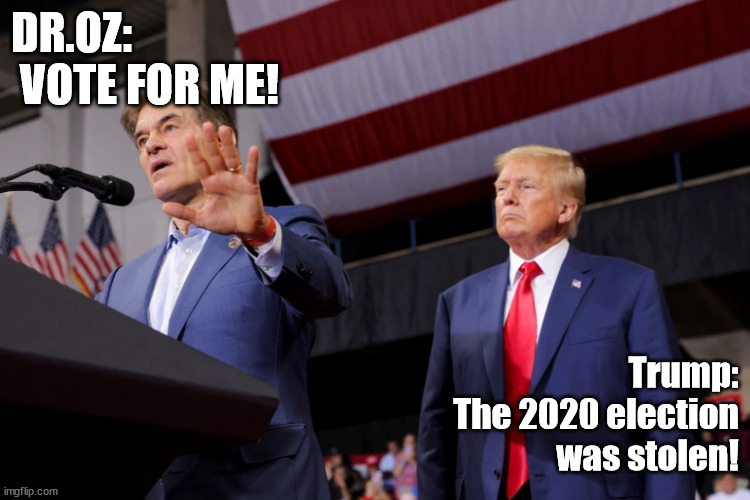 Voters response(will be):