Only 31% of the crop is in the ground in Argentina. There are months to go.
You are doing your best to convince yourself that everything is fine in Argentina, Jim.
Not sure where you get the 31% from.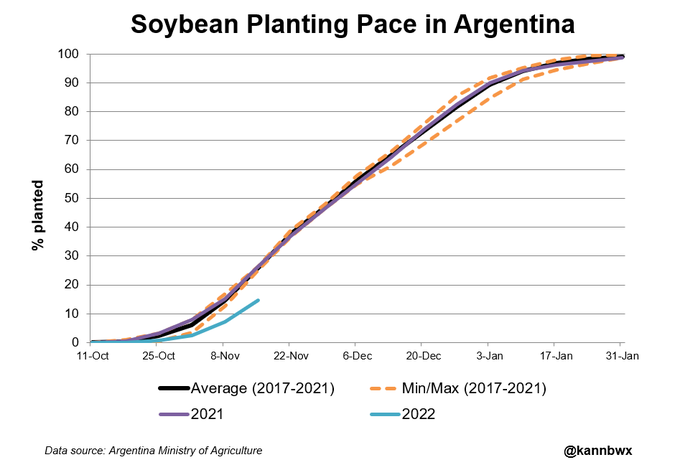 Note the blue line above Jim. Slowest planting on record by an extremely wide margin and with record high prices. What would explain that?
It's so dry that it's too dry to plant anything in some places of Argentina right now. Farmers are waiting for better rains.
Because the planting is extremely far behind in Argentina does NOT mean the unplanted portion still has the entire growing season to go.
It means the odds are going up of X amount of soybeans NEVER getting planted in Argentina.
This article was over a month ago but makes some solid points.

Column: Argentina's corn, soy yields already at risk with slim rainfall forecast
NAPERVILLE, Ill., Oct 4 (Reuters) - Argentina's grain belt is amid its driest calendar year in nearly a decade and forecasts are keeping that trend around for the next three months, when the country's corn and soybeans may need rain the most.
Although the sensitive yield-formation periods lie in the early months of 2023, harvest results have a slightly higher correlation with rainfall between October and December, when corn and soybean sowing is under way.
According to its agriculture ministry, Argentina's corn crop was 12% planted as of last Thursday, the slowest for the date in at least five years. But past data suggests corn yields are not negatively affected by planting delays, which are never historically large, anyway.
The same is true for soybean yields and planting pace, which will not accelerate until November. However, dryness during the sowing period can reduce overall area, as was likely the case for the current Argentine wheat crop.
Farmers in Argentina are expected to favor planting soybeans over corn this year due to better profit potential, but well below normal soil moisture and a dry outlook could threaten those plans.