Doomsday Clock creeps closer to midnight 00:52
https://edition.cnn.com/2019/07/06/opinions/nuclear-war-climate-change-2020-opinion-helfand/index.html
"Climate change and the danger of nuclear war are closely related. As climate change progresses over the coming decades, large areas of the planet will be unableto support their human population. As a result, there will likely be forced migrations on a scale unknown in human history, and an enormously increased risk of conflict, including nuclear conflict. Nuclear war, should it come, would cause further catastrophic climate disruption and widespread global famine.
Fortunately, there is a much greater focus on climate change in this election cycle than in 2016 when it received scant attention in the campaign despite the enormous differences in the policies espoused by the major candidates. This time around, the growing demand for action, especially by young people, and the daily reminders of the escalating damage to the planet, are forcing this issue to the fore where it rightly belongs.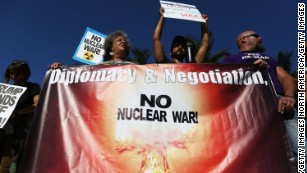 Sheer luck has helped us avoid nuclear war so far -- now we need to take action
Progressives in Congress have put forward a comprehensive plan to deal with this crisis in the form of the Green New Deal, and there is the real possibility that a post-Trump administration will embrace this plan or some variant on it. Unfortunately, there is much less attention at this point in the campaign to the growing danger of nuclear war. That must change."