Individual GFS ensemble solutions for the latest 0z run:
---
+++++++++++++++++++++++++++++++++++++++
GFS Ensemble mean(average of all the individual solutions above). The first map is a mid/upper level map. The 2nd one is a temperatures map at around 1 mile above the surface. These are anomalies(difference compared to average).
NCEP Ensemble t = 360 hour forecast
Sunday: Positive anomaly over Greenland and weak negative anomaly in the Northeast..........chilly Northeast/Great Lakes area.
Tuesday: Huge positive anomaly in the N.Pacific to Alaska for weeks is backing waaay up westward. Weak negative anomaly off the West Coast. Weak positive anomaly in the Midwest. Nothing to write home about. Mild temps.
Wednesday: Modest positive anomalies. Mild to warm.
Sunday: Huge Pattern change? Building positive anomaly NE Canada to Greenland, back to US Rockies/Plains, negative anomaly Southeast Canada to Northeast .........means chilly Northeast US. Warmer and drier Rockies/Plains, with modest positive anomalies. Potential for AO and NAO to go negative for the first time this year.
---
+++++++++++++++++++++++++++++++
Latest, updated graph/forecast for AO and NAO and PNA here, including an explanation of how to interpret them...............mainly where they stand at the end of 2 weeks.
https://www.marketforum.com/forum/t
Previous analysis, with the latest day at the bottom for late week 2 period.
Discussions, starting with the oldest below.
Sunday: AO and NAO finally dropping down to 0 after being positive all year, record +++++AO for awhile. Could bring some late season chilly air to the Northeast. Solidly negative PNA is usually not favorable for cold in the middle of the country.
---
Tuesday: AO and NAO drop down to 0 for the first time this year but with a very wide spread..........some members positive, some negative. This increases the chance for chilly air, although the actual pattern is not that impressive and we are talking early April now,. when cold is NOT very cold anymore. PNA solidly negative until late when it increases.
---
Wednesday: AO and NAO drop to 0. PNA increasing late from stout negative but the pattern does not look very cold. It will be April, so cold isn't going to last or be able to generate much heating demand.
Sunday: AO and NAO go negative for the first time in months. PNA increases greatly. Big pattern change potential. Warming up West to Plains........turning chilly Northeast. Also drying out with air masses going from higher to middle latitudes vs southern stream driven air masses with Gulf moisture.
---
+++++++++++++++++++++++++++++++++
National Weather Service 6-10 day, 8-14 day outlooks.
Updated daily just after 2pm Central.

---
Temperature Probability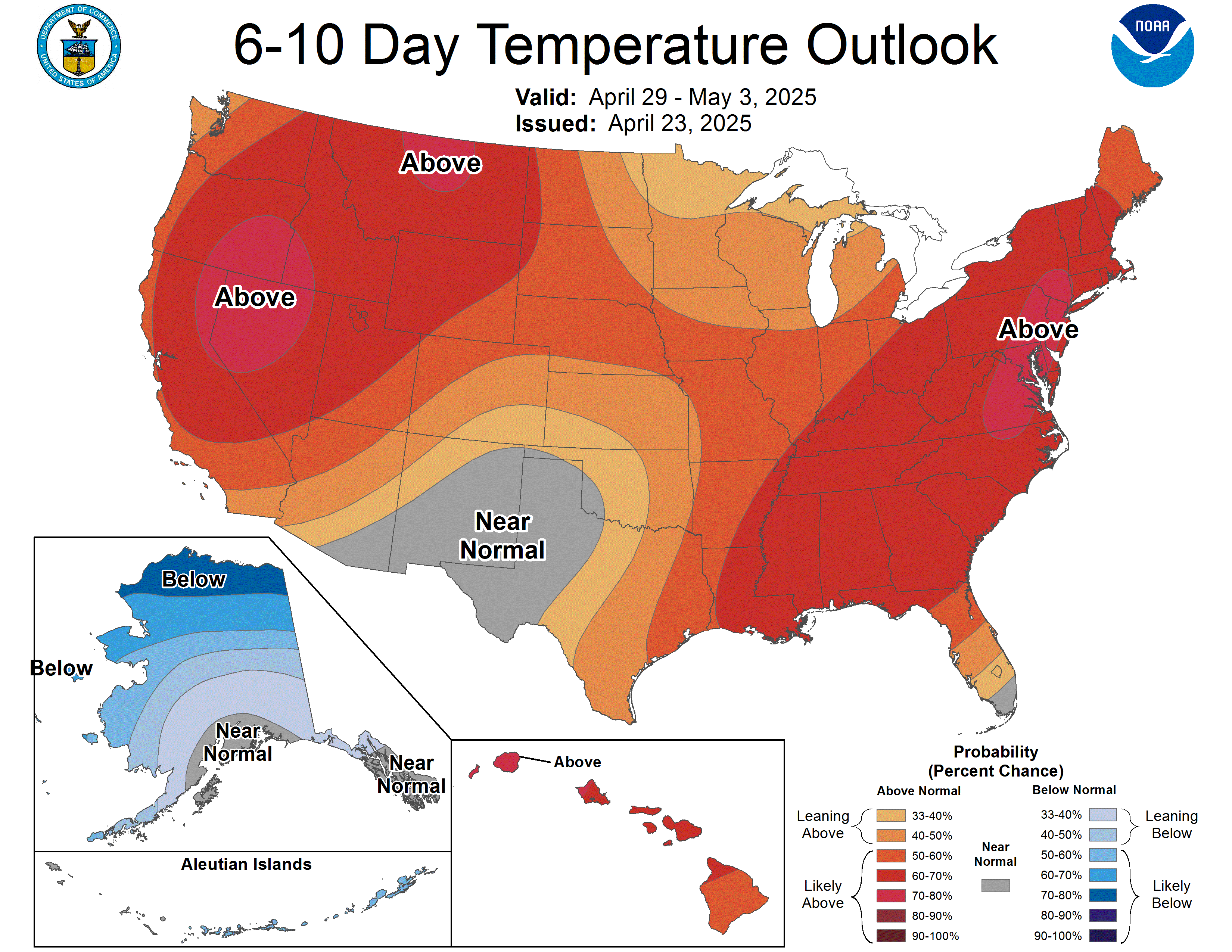 Precipitation Probability