Thanks cutworm,
I believe in natural cycles and the affects of the AMO that he mentioned are real. Trying to correlate them with the sunspot cycle is another thing.
The Grand Solar Maximum that he mentioned is real but it maxed out decades earlier than what he says.
Interesting that in his detailed discussion, he completely missed the most important............by a massive margin.......climate element that is affecting tree growth.........global warming and the increase in CO2.
Warmer temps increase tree growth. The growing season has increased by around 7 days and the increase in CO2, for some species of trees, is increasing tree growth by more than 50% compared to what the rate was a century ago.
CO2 increases growth of all plants, playing its role in photosynthesis but its the most powerful in woody stemmed plants, by far........which trees are.
The guy discusses all this speculative climate stuff, based on mainly one study that he sited but spends little time on the REAL affect from CO2 going from 300 ppm to 418 ppm that is absolutely proven to be massive and dwarfs everything else.
Global warming makes trees grow at fastest rate for 200 years
https://www.independent.co.uk/environment/climate-change/global-warming-makes-trees-grow-at-fastest-rate-for-200-years-1886342.html
"More than 90 per cent of the tree groups had grown by between two and four times faster than the scientists had predicted from estimates of the long-term rates of growth."
Go to the name of the plant/tree here and see how much the increase was in the studies that they did. Pick any plant that you can think of and look it up. Very impressive and indisputable. Many thousands of studies. Interesting that we never hear anything about these studies. This is the REAL science, not the silly, made up stuff coming from Greta or Gore or Bernie or AOC.
http://www.co2science.org/data/plant_growth/dry/dry_subject.php
Here's the AMO that he talked about and it has been in the warm phase for the past 25 years and may go into the cool phase in the next decade......speculative:
Atlantic Multi-decadal Oscillation (AMO)
https://climatedataguide.ucar.edu/climate-data/atlantic-multi-decadal-oscillation-amo
Here's the actual sunspot cycle he copied.
https://en.wikipedia.org/wiki/Solar_cycle
I am not seeing a strong/obvious correlation between the AMO and sunspots that he mentions and almost nobody else does either but there are a few that claim to see it and I am open minded to this possibility.
We have plenty of natural cycles that are not understood and this is one of them.
Evidence for external forcing of the Atlantic Multidecadal Oscillation since termination of the Little Ice Age
https://www.ncbi.nlm.nih.gov/pmc/articles/PMC3948066/
Droughts in one or two years are weather and will move around to different locations but the increase in CO2 is EVERY year, superimposed on lumber production/adding to it EVERY year, everywhere.
https://www.cpc.ncep.noaa.gov/products/Precip_Monitoring/Figures/global/n.180day.figb.gif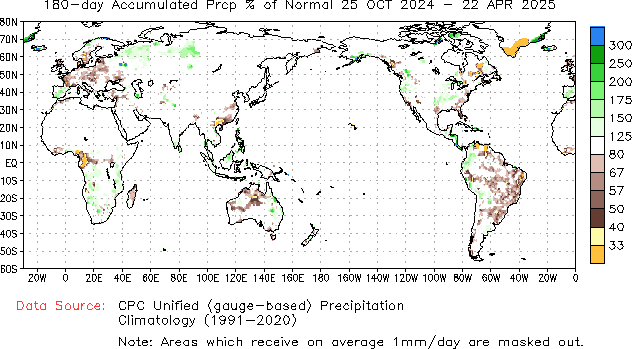 I have no idea where the main lumber regions of the world are but will check/learn.