Nothing more of significance this week.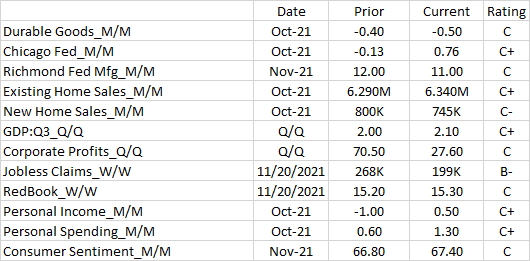 New Home Sales down a tic or 2 and Existing up as this market tries to discover itself.
GDP for Q3 is steady at a relatively disapointing level. Q4 is still forecast in the 8%+ range. Let's watch.
Corporate profits are not making sense to me, but are high and volitale. Need to do some digging.
Personal Income and Spending both had a good reading, but Consumers are understandably concerned.
Durable Goods were down for a 2nd month but Core Capital was up by .6.
Chicago showed decent growth and Richmond is steady and strong.
Most notable (as discussed) is the Jobless Claims this week at a level I've never seen. So much for my belief that it could not go much lower. But with a tight labor market and the holidays approaching, I guess anything is possible.
Going with a C+ this week. Happy Thanksgiving.