Thanks for bringing it up, mcfarm!
Biden says US spending billions to make military vehicles 'climate friendly'
President Biden said the climate crisis is 'an opportunity to do things we wanted to do'
https://www.foxnews.com/politics/biden-us-spending-billions-military-vehicles-climate-friendly
"One of the things I found out as President of the United States, I get to spend a lot of that money," Biden said. "We're going to start the process where every vehicle in the United States military, every vehicle, is going to be climate-friendly — every vehicle — I mean it."
metmike: Have we all lost our minds! This would be like in the middle of a drought, telling irrigated corn farmers in Nebraska in June "we will help you by banning any irrigation to crops this Summer in NE and create a new high tax on all the corn plants because they are using up water in the soil!"
Not only is the fake green energy very unreliable and diffuse........it F's up the environment 10 times worse than fossil fuels! It's a lose, lose, lose situation.........with only the big money in the solar and wind industries reaping windfall profits but mostly, this is about politicians that receive benefit............and are motivated by monetary and political incentives NOT science, NOT common sense, NOT energy laws, NOT authentic environmentalism but self serving motives:
Here's a small example:
ENVIRONMENTAL SECTOR
https://www.opensecrets.org/industries/contrib.php?cycle=2020&ind=Q11
Total contributions: $55,847,473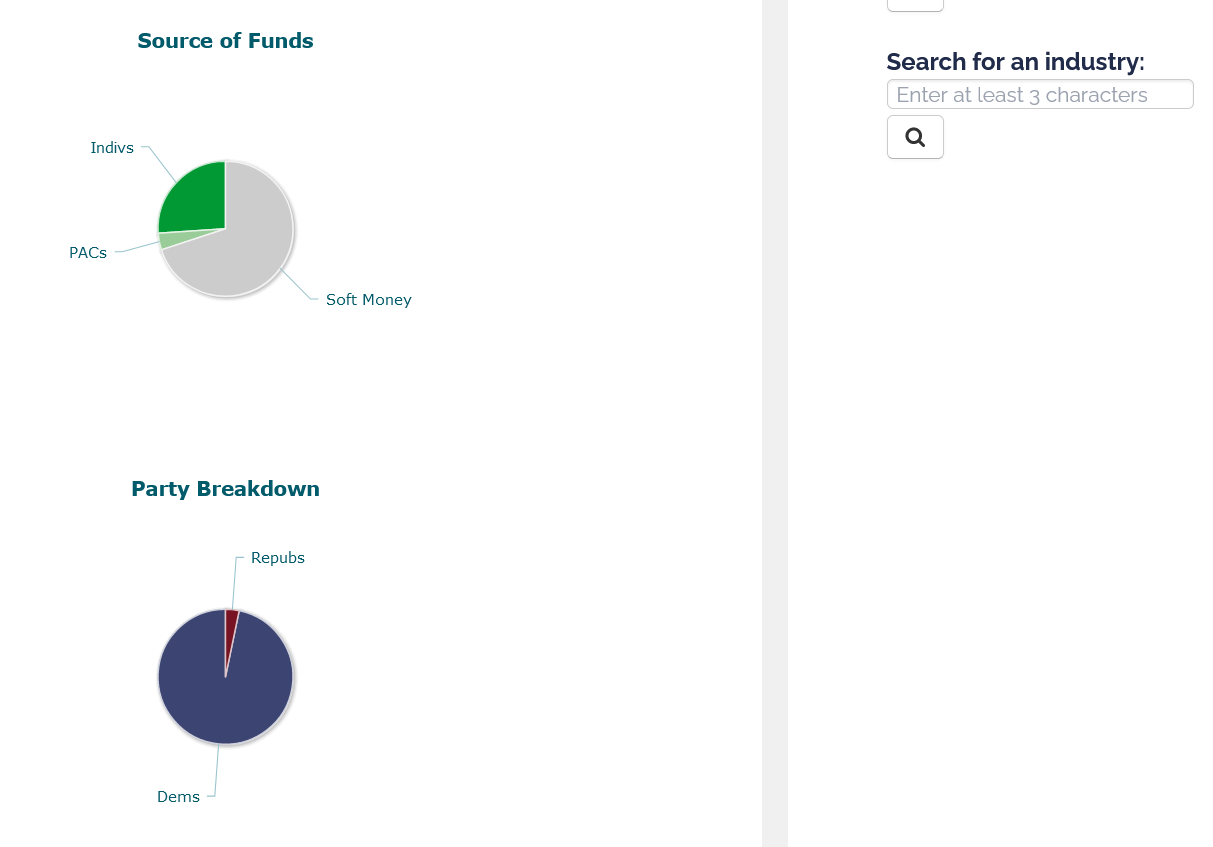 Toggle Party/Viewpoint percentages
To Candidates and Parties
To Outside Spending Groups
Rank
Contributor
Total Contribs
Total
Total
Liberal %
Conserv %
1
League of Conservation Voters
$18,058,948
$1,974,783
$16,083,625
100.0%
0%
2
Environmental Defense Fund
$6,491,361
$446,748
$6,044,247
100.0%
0%
3
Sierra Club
$4,047,638
$753,153
$3,292,735
100.0%
0%
4
Environment America
$2,674,930
$192,026
$2,482,754
100.0%
0%
5
NRDC Action Fund
$2,664,905
$155,946
$2,508,959
100.0%
0%
6
Pacific Environmental Coalition
$1,550,000
$0
$1,550,000
100.0%
0%
7
ClearPath Action
$1,428,100
$209,300
$1,218,800
0%
100.0%
8
Green Advocacy Project
$1,392,926
$20,107
$1,372,819
100.0%
0%
9
Nature Conservancy
$566,030
$510,053
$113,339
100.0%
0%
10
Sunrise Movement
$423,676
$18,102
$404,657
100.0%
0%
11
Natural Resources Defense Council
$411,088
$396,548
$14,833
100.0%
0%
12
Clean & Prosperous America
$308,861
$12,574
$296,287
100.0%
0%
13
Trust for Public Land
$306,290
$252,167
$50,125
100.0%
0%
14
Everglades Foundation
$247,522
$247,487
$0
0%
0%
15
Earthjustice Legal Defense Fund
$212,306
$175,494
$35,870
100.0%
0%
16
Environmental law & Policy Center
$202,737
$197,137
$15,750
100.0%
0%
17
Cool Effect
$184,269
$184,269
$0
0%
0%
18
Crow's Nest Research Center
$158,630
$158,630
$0
0%
0%
19
NextGen Climate Action
$156,382
$3,782
$152,600
100.0%
0%
20
Wilderness Society Action Fund
$153,850
$1,350
$152,500
100.0%
0%