Thanks, Jean.
You want the biggest helper to ease inflation?
End the war in Ukraine! And at the same time, it would increase global productivity/GDPs and give consumers more buying power with their increased incomes.
They won't tell us the truth about that though because they need American's to keep believing in the false war propaganda.
'
May 27, 2022
The Effect of the War in Ukraine on Global Activity and Inflation
https://www.federalreserve.gov/econres/notes/feds-notes/the-effect-of-the-war-in-ukraine-on-global-activity-and-inflation-20220527.html
Relative to a no-war counterfactual, the model sees the war as reducing the level of global GDP about 1.5 percent and leading to a rise in global inflation of about 1.3 percentage points. The adverse effects of geopolitical risks in the model operate through lower consumer sentiment, higher commodity prices, and tighter financial conditions.
Impact of Russia-Ukraine war inflation on struggling economies
The Russian invasion of Ukraine has continued to cause global supply chain disruptions. As a result, the prices of essential commodities such as fuel and food have increased globally. For instance, both Russia and Ukraine account for almost one-third of global wheat exports. The war has caused shortages that have increased food insecurity due to the soaring food prices. Most affected are poor countries that are already grappling with other issues such as climate change.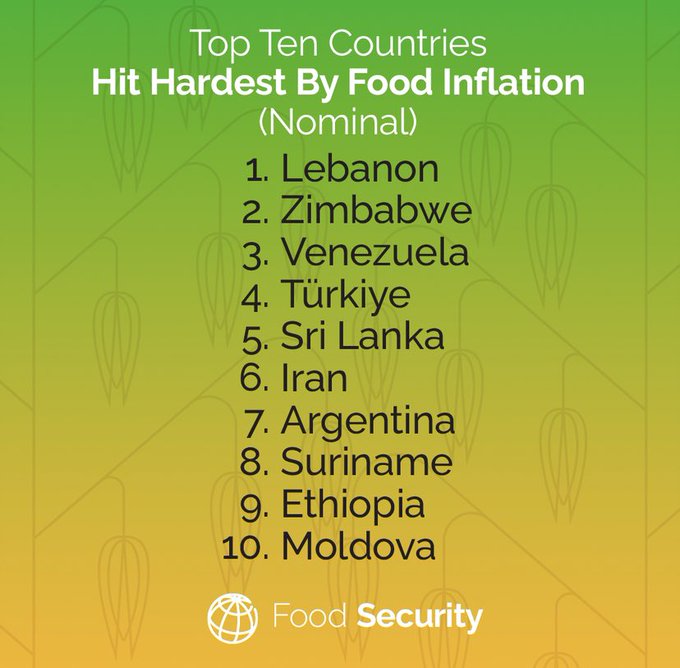 Russia-Ukraine war inflation: Impact on Lebanon
According to the World Bank Group, Lebanon is one of the countries that Russia-Ukraine war inflation hit hardest. In August this year, the World Bank estimated that food inflation in Lebanon increased by around 122% in real terms.
++++++++++
Russia's War in Ukraine Is Driving Global Inflation. Here's How Much
https://www.barrons.com/articles/war-in-ukraine-driving-global-inflation-51657294183
April 6, 2023
Russia's Invasion of Ukraine and Cost-of-Living Crisis Dim Growth Prospects in Emerging Europe and Central Asia
https://www.worldbank.org/en/news/press-release/2023/04/06/russian-invasion-of-ukraine-and-cost-of-living-crisis-dim-growth-prospects-in-emerging-europe-and-central-asia
The report's analysis, however, reveals the unequal burden of the cost-of-living crisis. It finds that inflation was 2 percentage points higher for the poorest 10% of the population compared to the wealthiest 10%. This difference exceeded 5 percentage points in some countries in the region, including Moldova, Montenegro, and North Macedonia.
Mapped: 2023 Inflation Forecasts by Country
https://www.visualcapitalist.com/mapped-2023-inflation-forecasts-by-country/
There are so many victims of this war between the US and Russia that we know about but the world's poorest people, many thousands of miles away are usually left out of the discussion.