The earliest freeze in our lifetime in the Cornbelt was the Labor Freeze of 1974!
Here's a description of it from the perspective of the state of MN. Incredible to imagine temps that cold with so much time left in the growing season.
However, if we go back to the 1800's, when global temperatures were cooler, there were numerous early freeze events. Cold used to be one of the biggest threads to crops before climate change greatly reduced that major threat.
Looking back at September 1974's unparalleled frost damage
https://www.farmprogress.com/marketing/looking-back-at-september-1974-s-unparalleled-frost-damage
https://www.weather.gov/abr/This_Day_in_Weather_History_Sep_03
An early freeze occurred across Minnesota and Wisconsin as temperatures fell into the upper 20s to the lower 30s. The cold was the earliest freeze on record in some parts of the state ending the growing season. The most significant damage was to the soybean and corn crop. Damage estimates were more than $100 million.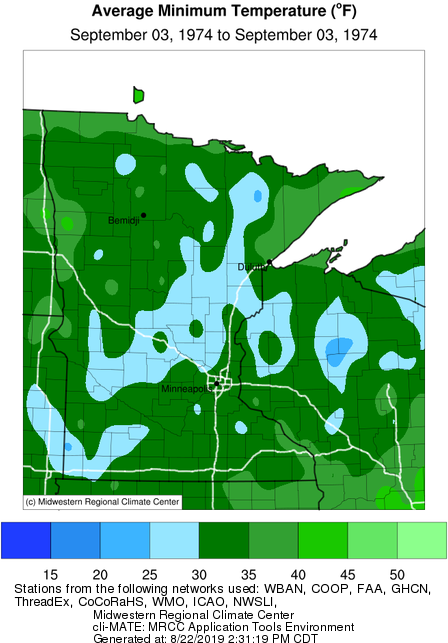 FROST COST IS HIGH ON NATIONS CROPS
A September cold wave has caused hundreds of millions of dollars in damage to crops across the Midwest and East, Government officials and farm groups reported yesterday.
They said soybeans and corn were hit the hardest with damage also to tomatoes. Kentucky's tobacco crop and New York State grapes.
The cold weather brought frost to states such as South Dakota as early as Sept. 3 and there was freezing reported in late September in most of the northern Midwest, according to The Associated Press.
Frost Damage Estimated
Officials in Indiana estimated the, frost cost farmers there about $152‐million; in Wisconsin, officials said total crop damage for the year is $125‐million, much of it from the frost, but some of it from heavy spring rains; in Ohio, total damage was set at $,356‐million for the year from drought, torrential rain and sarly frost.
In other states, estimates were not yet available but officials predicted the cost would be high.
Walter Goeppinger, chairman of the Board of the National Corn Growers Association in Boone, Iowa, said yesterday that American farmers would harvest less than 4.8 billion bushels of corn this year. The Agriculture Department predieted possible reduction of the 1975 corn crop if the frost prevents late fall field work.
++++++++++++++++++++
Numerous freezes in the 1800's
https://www.wlfi.com/archive/local-weather-history-the-great-june-august-1842-extremely-rare-summer-patchy-frosts/article_d7ba8d32-078a-54e6-81ab-a46da9a7b2fc.html
Earliest Fall Freeze in Iowa – September 1883
https://nws.weather.gov/blog/nwsdesmoines/2015/09/09/earliest-fall-freeze-in-iowa-september-1883/
On September 8-9, 1883, an unusually cool weather pattern resulted in damaging frost across northern Iowa on September 8. The very next morning on the 9th, the earliest general fall freeze on record occurred in Iowa and frost was observed nearly statewide.
Across northern Iowa a hard freeze occurred in some areas, with serious crop damage observed at Concord in Hancock County and a low of 24 F reported at Wolfdale in Woodbury County
1816: The Year Without a Summer
Also known as "Eighteen Hundred and Froze to Death"
https://newenglandhistoricalsociety.com/1816-year-without-a-summer/
https://en.wikipedia.org/wiki/Year_Without_a_Summer
1995 Freeze Event
With regards to the September 1995 freeze, this is what I found so far to help jog my memory.
I told an extremely long version of the story and had weather maps/records to go with it but that must have been on the old forum.
https://www.marketforum.com/forum/topic/30726/#30897
In 1995, I just checked my trading records, we had very late planting then a mid Sept freeze which did some serious damage to the beans that were still a couple of weeks away from maturity. Made a ton of money on that event. The freeze was at the start of the 3rd week in September. I'll have to check some weather data. Temps dropped into the mid 20's as far south as S.IL and S.IN, where we didn't get the beans planted until almost late June that year.
+++++++++++++++++++++
Remembering that freeze 28 years ago, It had been extremely dry in Aug/Sept so the ground was bone dry. When the cold/dry air mass came in over the bone dry ground, it didn't pick up any moisture/moderate much so dew points stayed low. With the lengthening nights and clear skies, calm winds the bottom dropped out.
More shortly