Climate Change Is Still a Huge Electoral Problem for Republicans
With Vivek Ramaswamy still calling it a "hoax," how can the other GOP candidates gain credibility on an issue Americans care about?
https://slate.com/news-and-politics/2023/08/gop-candidates-debate-climate-change-meet-public.html
About 20 minutes into Wednesday's Republican presidential nominee debate, the Fox News anchors turned things over to a college student with a pertinent question. "Polls consistently show that young people's No. 1 issue is climate change," said Alexander Diaz, chair of Young Americans for Freedom at the Catholic University of America. "How will you, as both president of the United States and leader of the Republican Party, calm their fears that the Republican Party doesn't care about climate change?"
It was, honestly, a remarkable moment. Fox News itself has been no slouch in the decades-spanning right-wing mission to downplay the effects of climate change, disputing the near-universal global agreement that human overdependence on fossil fuels is to blame. Yet, just before Diaz's question, moderators Bret Baier and Martha MacCallum pointed to the historic weather disasters unfolding across the country—Maui's wildfires, Tropical Storm Hilary, the Florida coast's "hot tub" ocean temperatures, the record-breaking Southwestern heat waves—and noted their links to human impacts.
++++++++++++++++++++++++
I love moments like this.............when I can show PROOF that the climate CRISIS IS A HOAX using THEIR examples!
THEY are the problem, not the climate. They take natural variation events, like those noted above this Summer and use them as examples of a climate crisis that doesn't exist in the real world (except on busted global climate models and manufactured realities).
Climate change contributing +2 deg. F and 7% more moisture to natural variation in a world where most life would prefer it even warmer and wetter than this is NOT a crisis.
The increase of 130 parts per million of beneficial CO2 that's greening up the planet still only brings us to half of the optimal level for most life!

Hurricane Hilary 8-18-23
23 responses |
Started by metmike - Aug. 18, 2023, 3:04 p.m.
https://www.marketforum.com/forum/topic/98364/
++++++++++
Hawaii wildfire at Lahaina (on Maui): CC blamed as a factor
42 responses |
Started by WxFollower - Aug. 10, 2023, 11:46 a.m.
https://www.marketforum.com/forum/topic/98093/
Part 2, Hawaii wildfire: CC/drought 8-17-23
8 responses |
Started by metmike - Aug. 17, 2023, 7:23 a.m.
https://www.marketforum.com/forum/topic/98328/
Record warmest water temp......NOT!
27 responses |
Started by metmike - July 26, 2023, 12:38 p.m.
https://www.marketforum.com/forum/topic/97607/
++++++++++++
Re: Re: Re: Re: Re: 600 dm-500 mb heights 8-23-23-Wow!
By metmike - Aug. 24, 2023, 2:52 p.m.
https://www.marketforum.com/forum/topic/98499/#98517
This isn't from the planet "being on fire" because of a climate crisis.
Probably 2 deg. F of the heat can be blamed on climate change. The rest is from natural variation. Since it's occurring over the huge cornfields of the Midwest, the impact from an increase in CO2 is being muted from evapotranspiration and the massive, 26% increase in vegetation BECAUSE OF the climate optimum!

The map below shows 850 mb temperatures for the entire northern hemisphere.
There is nothing extremely unusual with numerous hot spots and numerous cool spots as we ALWAYS see around the planet.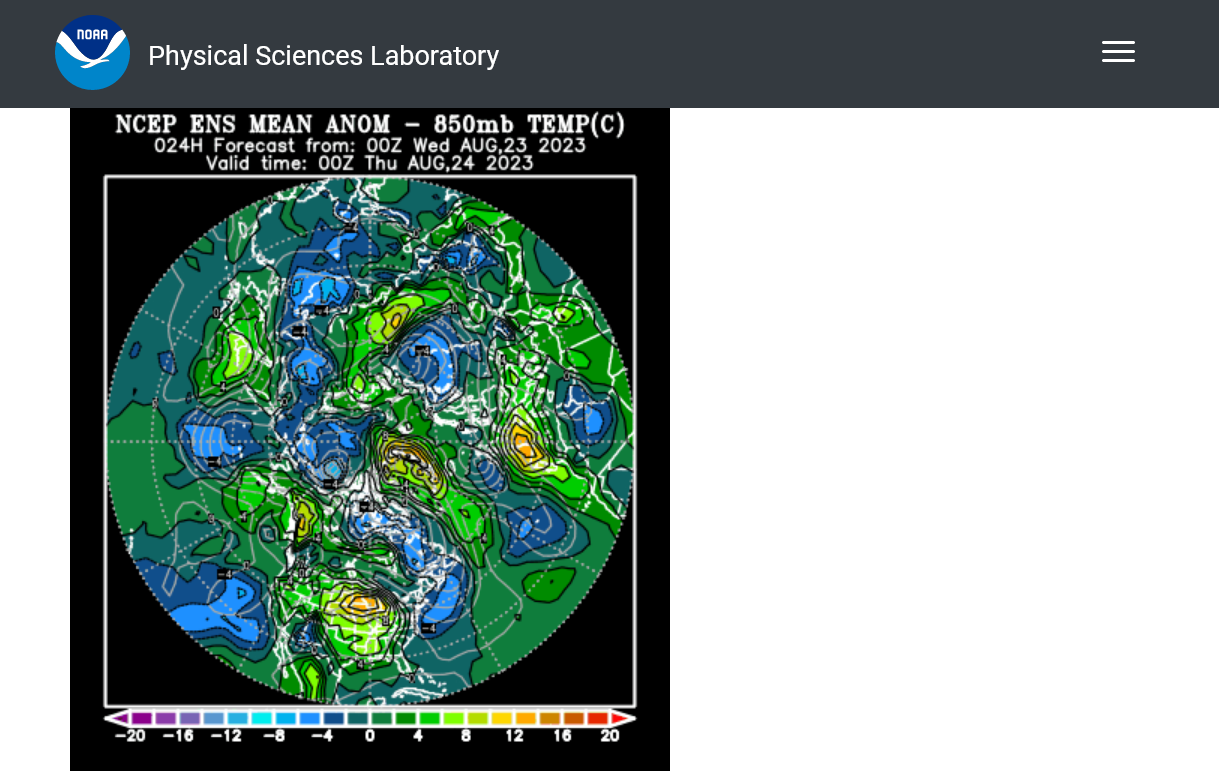 In the Summer ALL the reporters go to the hot spots to report the weather. Right now, the biggest one is on top the entire Midwest. This is is only our 2nd heat wave of the entire Summer, here in Indiana. The temp had been below normal overall this Summer……very pleasant, until the last few days which will last thru this week.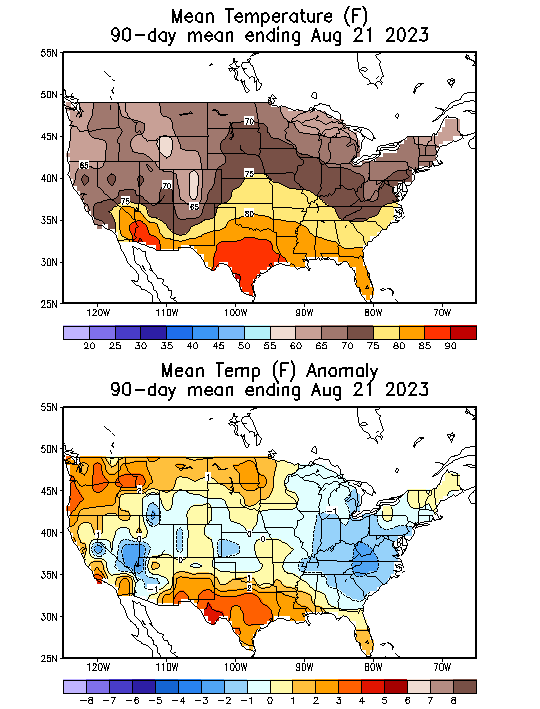 You remember when all the reporters went to Phoenix in July to report on their record heat from natural variation?
Outside of that heat wave, the Summer in Phoenix has been COOLER THAN AVERAGE!
+++++++++++++++
The reason that young people care so much about the fake climate crisis is that they've been indoctrinated into climate religion!!!
How could they possibly know anything different?
If you had a kid and kept them at home their entire life and taught them that a cat is called "dog" and a dog is called "cat" and only showed them information that told them the same thing..........the kid would be convinced to think that dogs go "meow" and cats go "woof woof"

But its MUCH worse than that.
The name of animals is a different word in each language and those are just words.
What we have done is a crime to humanity and our children. We have stolen their intelligence and taught them junk science and lies about the beneficial CO2 and the current climate optimum for most life on this massively greening planet with its booming biosphere.


Warmest temperature in..........1,000 years, since the Medieval Warm Period NOT hottest in 125,000 years.
Plant growth and food production +26% just from the added CO2.
Poisoning the minds of young people
Started by metmike - Aug. 14, 2023, 8:45 p.m.
https://www.marketforum.com/forum/topic/98263/
Wonderful CLIMATE OPTIMUM For Growing Crops!!
https://www.marketforum.com/forum/topic/98473/#98474
++++++++++++++++++++++
https://www.marketforum.com/forum/topic/98354/#98476
Agree but the problem is that almost EVERY message exaggerates and climate science isn't even science any more.
This includes almost all messages by the media. Almost all messages from mainstream climate scientist's. All messages from one political side and most governments.
The climate science bible which defines mainstream climate science are the junk science IPCC reports.
The UN used the IPCC(INTERGOVERNMENTAL Panel on Climate Change) to hijack climate science:
Those reports aren't designed to tell us about natural variation and cycles or to tell us 1 benefit from CO2. That would be objective, HONEST science. Their sole purpose is to show the human fingerprint and tell governments what actions need to be taken using money. That is NOT science, it's corrupt politics!