Re: Re: Re: Re: Re: Re: Crop conditions+ more 8-21-23
By cutworm - Aug. 27, 2023, 9:36 p.m.
Another issue for future soybean conditions is SDS or Sudden Death Syndrome. It shows up about this time of the season and could knock down the ratings by a % or 2
+++++++++++++++++
Re: Re: Re: Re: Re: Re: Re: Crop conditions+ more 8-21-23
By metmike - Aug. 27, 2023, 11:04 p.m.
Thanks much, cutworm!
SDS is a great topic to discuss.
I read around a dozen articles on it after you pointed this out and thought this was the best one and one of the most recent. I read several articles in the past too.
Sudden death syndrome of soybean
https://www.apsnet.org/edcenter/disandpath/fungalasco/pdlessons/Pages/SuddenDeath.aspx
"SDS is most severe when soybean is planted early into cool, wet soils, when heavy midsummer rains saturate the soil, and when SCN is present."
++++++++++++
This was a good article too:
Identifying and managing sudden death syndrome in soybeans
Sudden death syndrome kills yields with little warning.
Published on April 5, 2023
https://www.agriculture.com/crops/soybeans/identifying-and-managing-sudden-death-syndrome-in-soybeans
SDS is caused by a soilborne pathogen, but other conditions can increase the risk of an SDS outbreak.
A wet spring and heavy rainfalls in August contributed to greater SDS pressure in 2022.
"A wet spring can help phase one — root rot," Mueller says. "Phase two is when that toxin moves, and you need heavy rainfalls for that to happen."
Planting early can also cause problems. Moderately cool, wet soils can boost fungal development."
++++++++++++
I selected those quotes to discuss the weather this growing season with respect to SDS. There are other factors besides weather but this year, we had dry Spring.....the opposite of what is favorable for SDS to spread in the root systems from the get go.
It was actually TOO dry in many locations. Many producers had to punch corn and bean planting depths as far down as possible to get to moisture since the top part of the soil profile was extremely dry.
The drought monitor map at the end of May illustrates the early ANTI SDS soil conditions very well.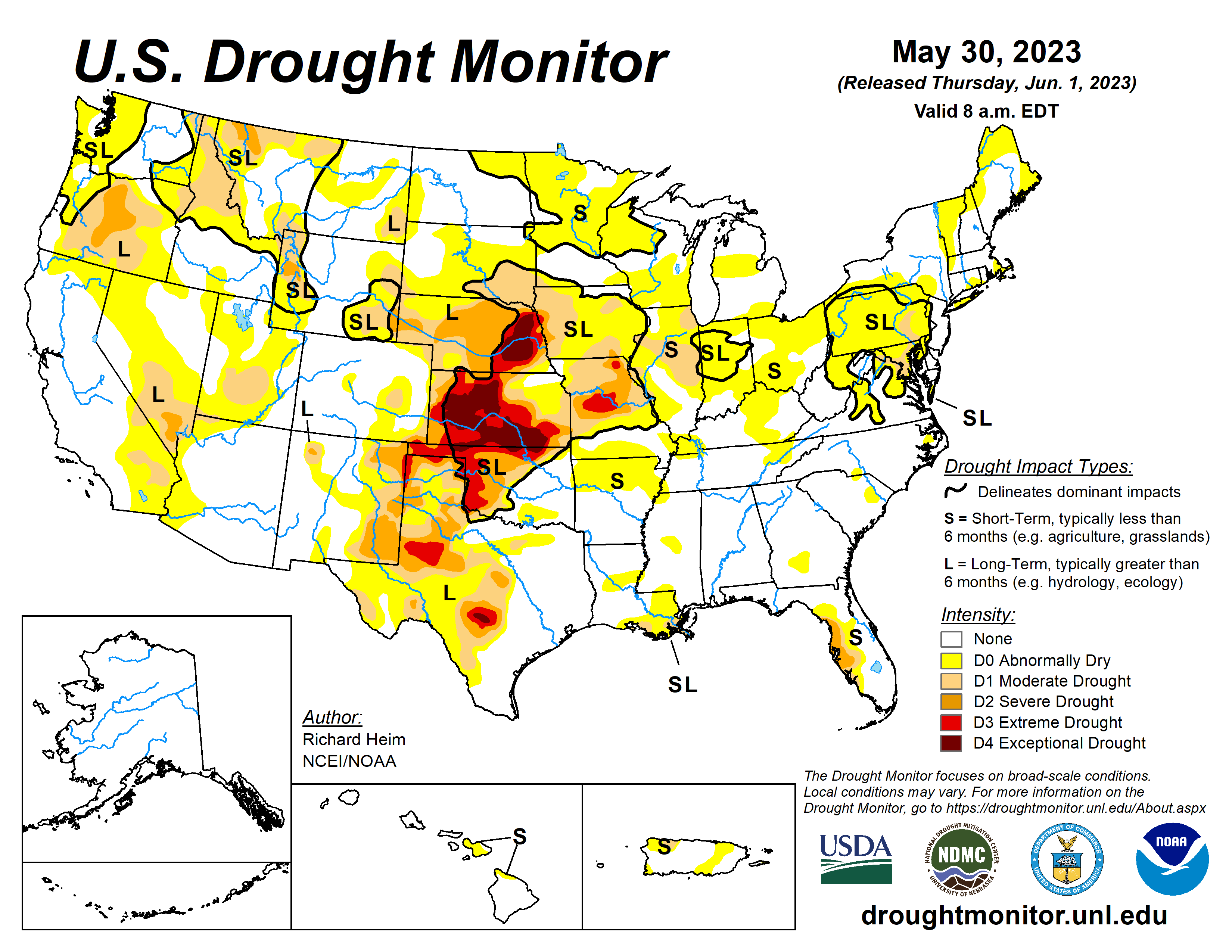 August 22, 2023. Last update below.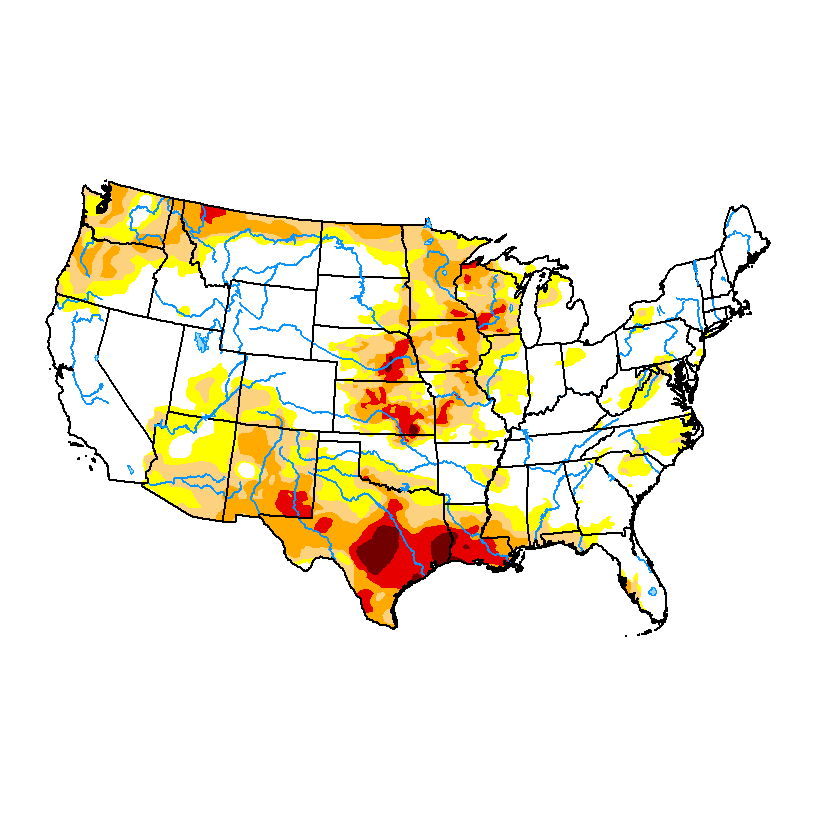 We had several periods of heavier rains that saved the 2023 crop but with extended dry periods (too dry) in between them and no long periods with saturated soils at any point that are most favorable for SDS later in the growing season.
SDS isn't all about weather but 2023 was a great weather year for minimizing the amount of damage from SDS for most of the Midwest.