This bs has got to stop!
Mapping U.S. Imperialism
https://mronline.org/2022/06/06/mapping-u-s-imperialism/
U.S. imperialism is the greatest threat to life on the planet, a force of ecological devastation and disaster impacting not only human beings, but also our non-human relatives. How can we organize to dismantle the vast and complicated network of U.S. imperialism which includes U.S. war and militarism, CIA intervention, U.S. weapons/technology/surveillance corporations, political and economic support for dictatorships, military juntas, death squads and U.S. trained global police forces favorable to U.S. geopolitical interests, U.S. imposed sanctions, so-called "humanitarian interventions," genetically modified grassroots organizations, corporate media's manipulation of spontaneous protest, and U.S. corporate sponsorship of political repression and regime change favorable to U.S. corporate interests?
This article deals with U.S. imperialism since World War 2. It is critical to acknowledge that U.S. imperialism emanates both ideologically and materially from the crime of colonialism on this continent which has killed over 100 million indigenous people and approximately 150 million African people over the past 500 years.
The exact death toll of U.S. imperialism is both staggering and impossible to know. What we do know is that since World War 2, U.S. imperialism has killed at least 36 million people globally in Japan, Korea, Vietnam, Cambodia, Laos, Indonesia, Iraq, Afghanistan, Syria, Yemen, the Congo, Chile, El Salvador, Guatemala, Colombia, Haiti, Puerto Rico, Cuba, Dominican Republic, Nicaragua, Chad, Libya, East Timor, Grenada, Honduras, Iran, Pakistan, Panama, the Philippines, Sudan, Greece, Yugoslavia, Bosnia, Croatia, Kosovo, Somalia, Argentina, Bolivia, Brazil, Paraguay, Uruguay, and Palestine (see Appendix).
This list does not include other aspects of U.S. imperialist aggression which have had a devastating and lasting impact on communities worldwide, including torture, imprisonment, rape, and the ecological devastation wrought by the U.S. military through atomic bombs, toxic waste and untreated sewage dumping by over 750 military bases in over 80 countries. The U.S. Department of Defense consumes more petroleum than any institution in the world. In the year of 2017 alone, the U.S. military emitted 59 million metric tons of greenhouse gases into the atmosphere, a carbon footprint greater than that of most nations worldwide. This list also does not include the impact of U.S. fossil fuel consumption and U.S. corporate fossil fuel extraction, fracking, agribusiness, mining, and mono-cropping, all of which are part and parcel of the extractive economy of U.S. imperialism.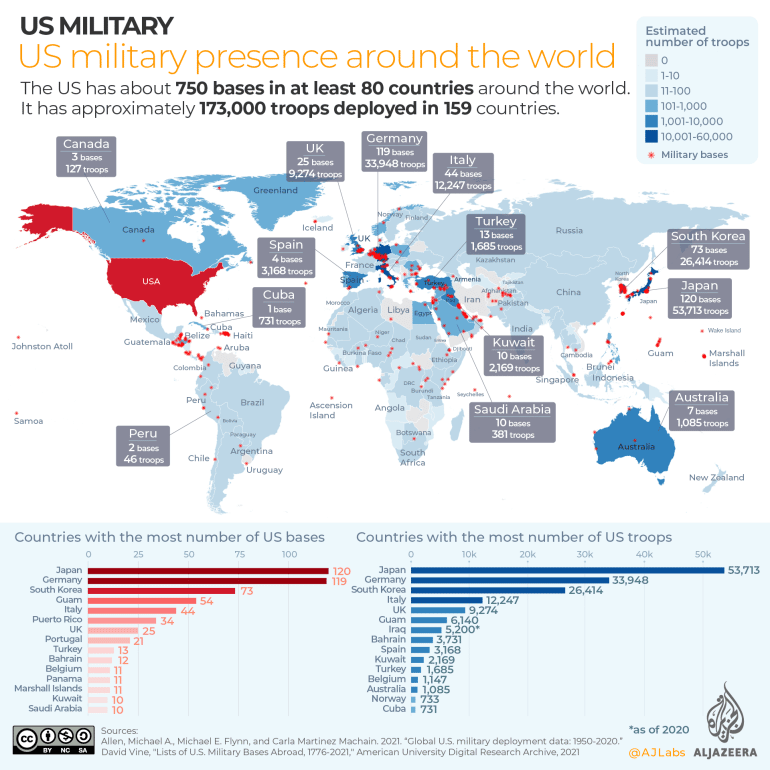 Appendix: The Death Toll of U.S. Imperialism Since World War 2
Afghanistan: at least 176,000 people
Bosnia: 20,000 to 30,000 people
Bosnia and Krajina: 250,000 people
Cambodia: 2-3 million people
Chad: 40,000 people and as many as 200,000 tortured
Chile: 10,000 people (the U.S. sponsored Pinochet coup in Chile)
Colombia: 60,000 people
Congo: 10 million people (Belgian imperialism supported by U.S. corporations and the U.S. sponsored assassination of Patrice Lumumba)
Croatia: 15,000 people
Cuba: 1,800 people
Dominican Republic: at least 3,000 people
East Timor: 200,000 people
El Salvador: More than 75,000 people (U.S. support of the Salvadoran oligarchy and death squads)
Greece: More than 50,000 people
Grenada: 277 people
Guatemala: 140,000 to 200,000 people killed or forcefully disappeared (U.S. support of the Guatemalan junta)
Haiti: 100,000 people
Honduras: hundreds of people (CIA supported Battalion kidnapped, tortured and killed at least 316 people)
Indonesia: Estimates of 500,000 to 3 million people
Iran: 262,000 people
Iraq: 2.4 million people in Iraq war, 576, 000 Iraqi children by U.S. sanctions, and over 100,000 people in Gulf War
Japan: 2.6-3.1 million people
Korea: 5 million people
Kosovo: 500 to 5,000
Laos: 50,000 people
Libya: at least 2500 people
Nicaragua: at least 30,000 people (U.S. backed Contras' destabilization of the Sandinista government in Nicaragua)
Operation Condor: at least 10,000 people (By governments of Argentina, Chile, Uruguay, Paraguay, Bolivia, Brazil, Ecuador, and Peru. U.S. govt/CIA coordinated training on torture, technical support, and supplied military aid to the Juntas)
Pakistan: at least 1.5 million people
Palestine: estimated more than 200,000 people killed by military but this does not include death from blockade/siege/settler violence
Panama: between 500 and 4000 people
Philippines: over 100,000 people executed or disappeared
Puerto Rico: 4,645-8,000 people
Somalia: at least 2,000 people
Sudan: 2 million people
Syria: at least 350,000 people
Vietnam: 3 million people
Yemen: over 377,000 people
Yugoslavia: 107,000 people
+++++++++++++++++++++++++++++++
This doesn't even count the 500,000+ dead in Ukraine because of our war with Russia, using Ukrainians to fight it.
You might wonder how in tarnation Americans put up with the decades of American sponsored atrocities around the world??? Our tax dollars and the U.S. Military- Industrial complex is responsible for most of this.
WAR PROPAGANDA! DISinformation about all these situations to justify our relentless Imperialism! Ukraine is just the latest one. https://www.marketforum.com/forum/topic/98691/

Tawian cannot be the next one.